Subsections within the Poems section:-
Resources
Inkondlo kaZulu by Vilakazi B. Wallet
Date added: 27/08/2015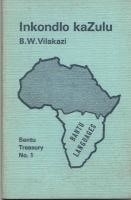 Benedict Wallet Vilakazi (6 January 1906 – 26 October 1947) was a South African Zulu poet, novelist and educator. In 1946, he became the first black South African to receive a Ph.D.
After being awared his Bachelors Degree from the University of South Africa in 1934, Vilakazi began work in the Bantu Studies department at the University of Witwatersrand in 1936 under linguist C. M. Doke, and together they created a Zulu-English dictionary. Vilakazi's teaching position made him the first black South African to teach white South Africans at the university level.
Inkondlo kaZulu is the first publication of Western-influenced Zulu poetry.
Contact Amazon to make a purchase enquiry