Second Revival In Episcopal Church Among the Dinka in South Sudan: 1970-2010
Date added: 23/01/2017
No comments in this article yet. Start the discussion >> (You need to log in first.)
Second Revival In Episcopal Church Among the Dinka in South Sudan: 1970-2010

Bishop Hilary Gerang Deng, Bishop of Malakal Diocese, Episcopal Church of South Sudan.
CAMBRIDGE THEOLOGICAL FEDRATION
Ridley Hall, CAMBRIDGE, UK. November 2016.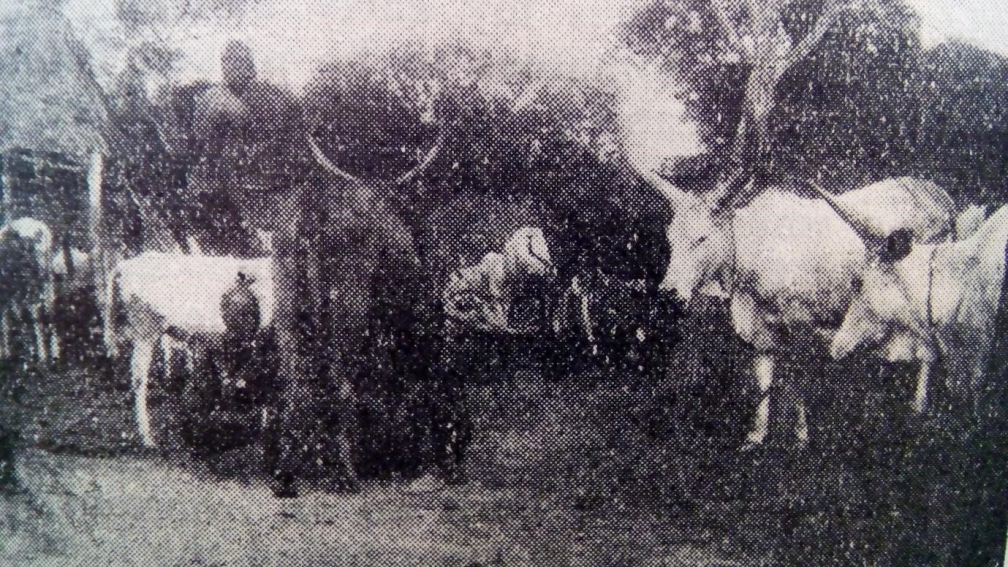 Introduction.
Before we get into our main subject, which is "The Second Revival" among the Anglican-Jieng People, in South Sudan", it is good to give a brief survey and overview of the past states and conditions in which the church was among the Jieng people, during and after the missionaries left the Sudanese Church, one of the few Churches, within Africa, that little has been know about it's birth and development. It was born as a result of the witness of the white missionaries, who came from different parts of Western Europe, North America and few from within different parts of Africa, especially from East Africa. This was specifically in-between the early or midst of the "Nineteenth Century". It was mostly carried out by evangelical missionary societies as well as number of Roman Catholic missions, such as "The Holy Verona Fathers", "Comboni Father", and "Church Missionary Society" for the "Anglican Church". Also among them came, "The American Mission", which gave way to the "Presbyterian Church of South Sudan" and the "Evangelical Presbyterian Church of Sudan" , and the "Sudan Interior Mission", which today is the Sudan Interior Church (SIC). There was also the "African In-Land Church" and finally the "Pentecostals" and others. It is worth mentioning how this Church also encountered persecution in its early stages and how God helped her recover from that threat and emerge as one of the witnessing Church in a predominantly Muslim Country such as Sudan and how it became one of the sources of hope and guidance in the resistance and struggle of the Sudanese mass who have been yearning for peace and freedom for the last hundred years, looking for a political settlement to the on-going injustices and persecution.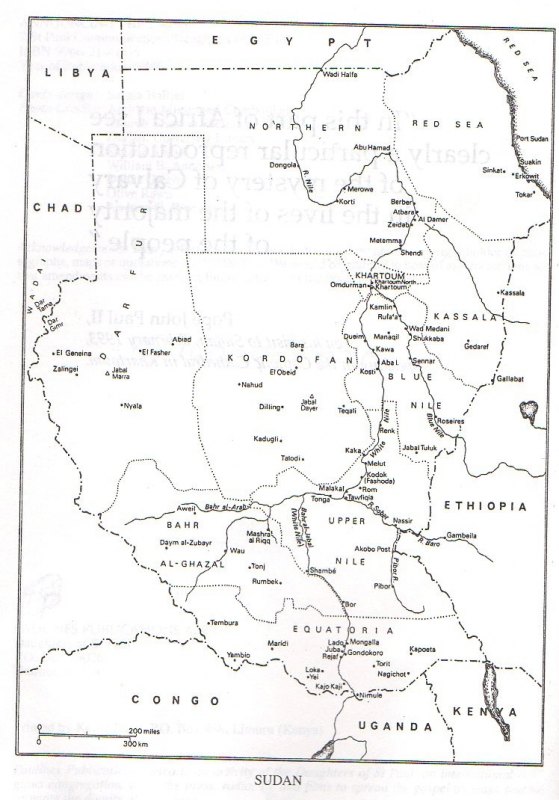 There are many questions around the failure of church growth among the Dinka during the missionary time and why this just burst into blazes later, some years after the expected time? We will look at the effect on the missionaries and Dinka clergy who laboured with tears and could not see any change or revival emerging among the Dinka, especially, the Bor-Jieng whom Shaw, grand-father of their faith who spent most of his life-time to see this happening. Then we will look into how the second revival came to the Jieng people, especially, the Bor-Jieng to whom the Gospel was first preached in 1904 and the first Anglican Christian was baptized*. Here the 'Anglican Church' is so rooted and almost 99% of the Christians are from the Anglican Church with maybe a few Pentecostals and other Churches that are just coming to surface in the recent days, such as the Catholic, reformed and Anglican, 'Seventh Day Adventist'. These are challenging the Anglican Church's theology and teaching nowadays, in camps and home village churches, because of the lack of training among the Anglican Church pastor in the Dioceses of Greater Bor area. It is a burning issue facing the local Church today in many parts of the Anglican Church in Bor. There are also pockets of breakaway groups from the Episcopal Church which have formed their communities and Churches under the 'Anglican church of South Sudan' and have drawn their membership from these local communities of the Bor-Dinka, especially from their own blood-related communities and are trying to cause confusion to faith within this revival Movement.
Map.1. Map of Sudan and Sudan.(Wikipedia).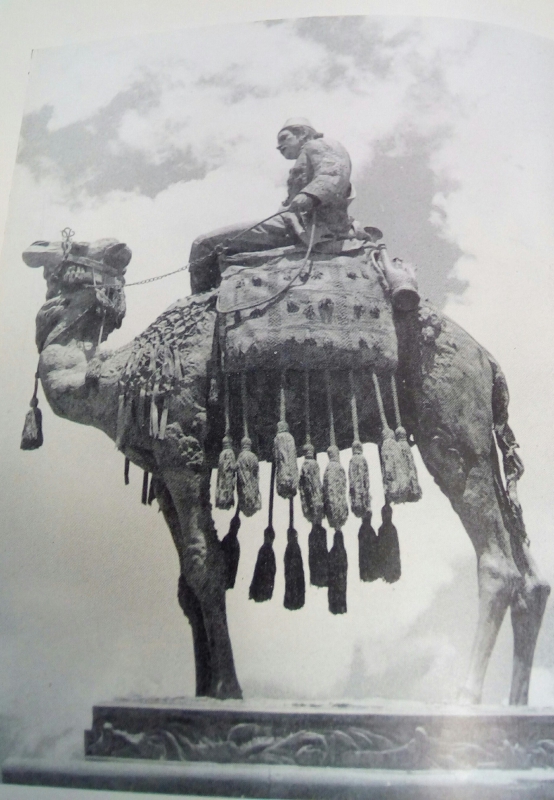 Photo 1. The Status of General Chaarles Godon( Sudan Diocesan Review, No… yr)
A Whiteman with A Dinka Heart!
Archibald Shaw (Machuour) was the second man that the credit goes to, after Gwynne, for the success of the 'Gordon Memorial Sudan Mission' (GMSM). He is the man who met the challenge. Marc Nikkle, in his book, called him as "A whiteman with a heart of a Dinka".1 This was due to his patience to do God's will.
It was clear that after the mission caught up with with Bishop Gwynne in Khartoum with some difficulty, and the 'New installed Mission' at Malek, Gwynne went his way and so the other four young men left the mission at Malek. Shaw was the only left, but he himself went on leave, for holiday and the mission was closed down; without anybody operating it or doing any work except a few watchmen, who were looking after Shaw's property and waiting for him to come back or no!
It was a surprise when Shaw came back in 1908, with a few other missionaries and the work started again. And other areas were started as well, Yambio, Yei, Kajo Kaji, Gel River. And God was with him, and helped him greatly.
Shaw's at Malek.
Shaw's first and last experience was, as he puts it here in his comments, in his service among the Jieng's, when he began to move and understand slowly of their ways of living, faith and religious:
"The people are primitive and ignorant with deep tribal prejudices against foreigners of any kind. Unlimited patience and years of labour, are humanly speaking, necessary before these people are won for Christ."2
Then afterwards, within a year this was his experience:
"I am getting daily more fond of the Jieng up here ( at Gualla) …..some of the younger men who come every day, and work for us in various ways, I begin to look upon as real friends, and and I believe they reciprocate the feeling towards us."3
This was a great breakthrough and discovery. The friendship started and the message reached out and the incarnation of Christ began among the Jieng. Machuor became one of them and they began to respect, listen and thank him for his courage and patience, tolerance and endurance to their negligence and persecution.
At the end of this journey with the Jieng people, this is what others begin to say about Shaw's relationship with the Jiengs his friends. These were the words of one his co-workers, and beloved friends, Leonard C. Sharland, of CMS-Mission Station, based at Gel River:
"Another very happy feature of this occasion was the presence of Archdeacon Shaw among us. As known to many of you he visits us annually from retirement in Kenya to help us with the Dinka language work. His heart is very much in the Dinka work and he is never happier than when he is surrounded by Dinka of all ages, who love him because of the pioneering place he won in the hearts of their predecessors at Malek and elsewhere".[1]
The reasons for Shaw's success was by the grace of God and by his determination to not count the cost but suffer to win multitudes to the Lord of Life, Jesus Christ the Saviour. He went beyond the Jieng, allowing many of his friends to work among other tribes from the South but linked to the undominable/unchangeable Jieng to overturn their ways of live through the power of God alone. He met them in their terms, as Marc Nikkel writes:
"Shaw did not, like Gwynee during his first forays on the Upper Nile (the homeland of Nilotics), attempt to force immediate changes in 'Nilotic beliefs' or 'practice' nor was he encumbered by the weight of established Mission structures and expectations as were his successors. Uniquely among the GMSM missionaries among the Jieng, Shaw was able, both by inclination and circumstance, to meet the 'Jieng' on their terms. Archibald Shaw 'Macuor, the only whiteman with the heart of the Jieng".[2]
Marc Nikkle puts it in his book, 'Dinka Christianity', to make his point about how a missionary worker can still succeed or gain success despite the challenges and no matter how difficult the situation you are in might be. There is still a way and hope to see and go about it.
Following this experience of Shaw, you will see the suffering and uncountable blessing that follows later with all that have waited upon the Lord in their missions.
Working With Dinka Proved Difficult.
Was working and witnessing to the Jieng people a problem? Yes, many indicators were proving this to be true and it was shared across the CMS circulations; the fact that it was a 'problem to all the missionaries' with exception of Shaw and probably God. Lea Wilson, the missionary who opened the second Dinka Station among Ciech people in Lau with Shaw, said:
"This station….among the Ciec Jieng proved once more how more indifferent the Jieng are; how little interest they take in anything but their cattle; how narrow is their horizon is, and how little they wish to have it enlarge,"[3].
With the station routine unrewarding at Malek, some new GMSM recruits did not endure even one term. After a year in Malek the new 'industrial man,' G.P. Thomas applied for a transfer to Uganda. To some missionaries Shaw seemed an uncompromising taskmaster, "more like a military colonel than an ecclesiastic."[4] In 1918, King resigned from the Mission, announcing that he could not "Work harmoniously with Mr. Shaw."[5]Discussing the conflict Shaw acknowledge that, "The work amongst the Dinkas is 'slow and difficult' and both Mr. Scammell and Mr. King avowedly at times considered it 'not worthwhile'."[6]
This difficult situation that began to emerge in the Mission about the Jieng and was echoed abroad was too worrying but Shaw was able to manage it to the end. The fruits were seen later, not as the other friend saw it, but as Shaw saw it and God also knew of it that perseverance would produce fruits. Many of the leading figures in our political struggles in South Sudan came from this area, such Abel Alier, Dr. John Gerang, and Samuel Arou Bol (Rumbek) of the West Bank, Isaiah Kulang Mabor, Andrew Makur Thok (Yirol). As well as church leaders such as, Bishop John Malau Ater, Bishop Benjamin Mangar (West Bank) and Bishop Nathaniel Gerang Anyieth, Bishop Kedhkia B Mabior, Archbishop Daniel Deng Bul and many others including me. Also good number of teachers and government administrators, who were well known over the South and Northern Sudan, were all from Malek, Akot and Panekar. It would have been a great loss or a chance for Islam to dominate us and use us as tools of terrorism.
The Dinka Prejudice.
In 1915, Shaw, in need of manpower and believing that 'native agents' might penetrate Jieng's resistance (to change) more easily than Equatorians, called for the assistance of Ganda Christians. Two were assigned to teach the sons of the largely Muslim population at Mongalla, but their efforts met strong hostility. At Malek, Paulo Baguma and his wife Elinora proved an asset but struggled with the Jieng language, strange food, homesickness and the 'prejudice' of the Jieng.[7] By 1919, Shaw had to admit that "The experiment of bringing them has not been altogether successful."
The first Baptism to CMS.
Hope rose in June 1914 when Aruor, a domestic worker who had been with Shaw for eight years, who was about 24 years of age, informed King, one of the pastors, that he "wanted to talk about the things of God".[8]With Shaw away in Yambio he was encouraged to share his news by letter:
Chief Shaw (Beny Shaw or (Macuor)/sir in Dinka), yesterday I heard of God. I was happy for the news of God and Jesus came to my heart and I was full of joy. He has come into my heart. People are persecuting me and I do not fear their words. As you told me, I kept praying over it. Prayer is very dear to me. I ponder much over the things of God. Come quickly that our words may mingle about the things of God. God walk with you.[9]
'Nilotic' A 'better give It up Case?'
Was the CMS mission to the Dinka almost coming to a 'better Give It Up issue, in South Sudan?' Yes, for it was passed unanimously in their general meeting, for 'Jieng's Missions' to be given up and handed over to another Mission working in Upper Nile among the Ng'ok Dinka. To be given to the Sudan United Mission or the Presbyterians or leave it to their local and indigenous teachers to run them. But I think, God didn't allow it to happen. I think when the people and communities of the former 'Lado Enclave' appeared far more receptive to CMS-Missions than the 'Nilotics' this is why this move began to arise. In only three years 150 people were attending Sunday services at the new church in Yambio. By 1916 the Moru also offered an enticing field, "Most unlike the Jieng who think only of their cattle". By 1918 there were 30 catechumens at Yambio, 8 enquirers; 25 out of 60 regular students were sons of chiefs; this contrast sharply with Malek.[10].
In 1919 there were only nine CMS missionaries in Southern Sudan, with considerable scope for immediate expansion. Shaw estimated that a total of 16 missionaries were needed to cover existing commitments alone, a number beyond the capacity of CMS to supply. It was Shaw himself who "most reluctantly felt compelled to advise" that, in order to restricting staffing to 11 missionaries, another society be approached to take part of the existing CMS work in Southern Sudan.[11]. In response, members of the the Sudan Sub-Committee voted unanimously, "in favour of giving up Dinka work and concentrating on mass movement centres." Shaw was appointed to approach the Australian branch of the Sudan United Mission asking if they would incorporate the two CMS Dinka stations within their existing Jieng work in Northern Upper Nile Province.[12] If this did not prove feasible, it was resolved nevertheless the missionaries would be withdrawn, leaving native teachers, if available, in charge of Lau and Malek.[13]
After two years, a response was finally forthcoming; it was negative.[14] By then Gwynne wrote that he "would deprecate work (at Malek) being given up after 17 years". Shaw and the GMSM would persevere with the Jieng. Never the less, priority remained with the "mass movement centres" of Equatoria.
In 1920 a new centre was founded among the Bari Juba, which rapidly developed into an important administrative and educational centre. The following year Maridi was opened among the Baka, and a thriving medical mission begun among the Moru at Lui.[15]
Malek Abandoned for Shaw's Care.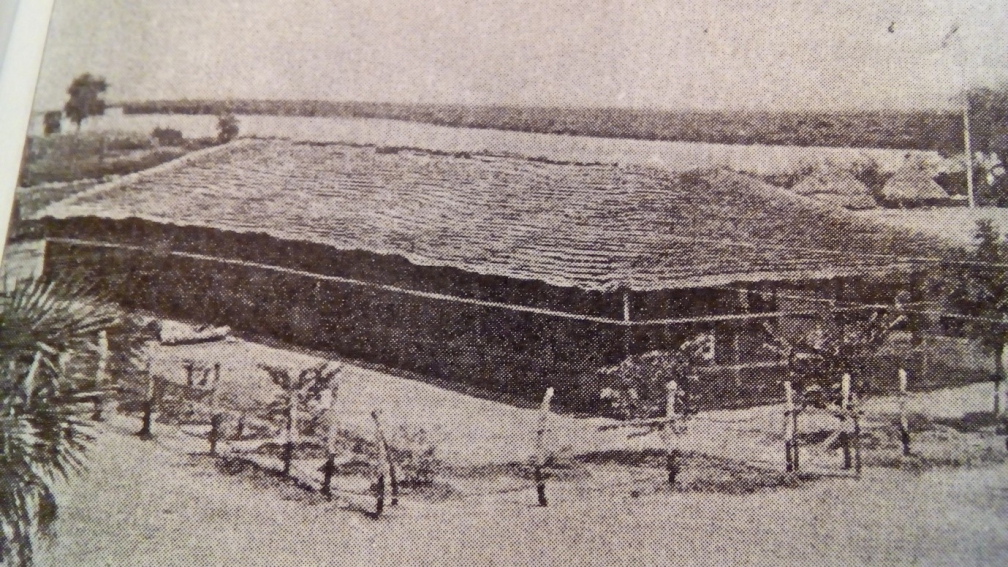 Photo 2. CMS-Malek Church 19
As for the Jieng, Shaw had to acknowledge in 1922 that the broad advances once envisioned had come to "a sad story". The Scamwells had left, he after ten years, leaving Shaw once again the sole missionary at Malek. 'Industrial' education was terminated as was hope of Malek becoming an economic centre.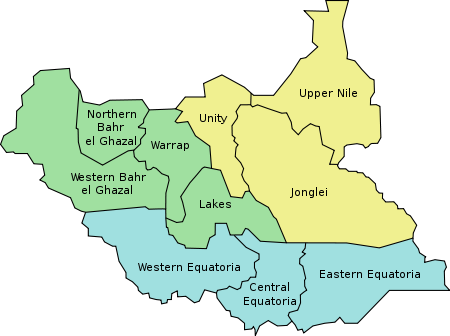 Map 2. The Map of Republic of South Sudan with ten States 2014.
CMS 'Latest Hope.
It was good also to see that the hearts of the missionaries were still holding good intentions to reach the Nilotics, especially Jieng, at God's time. Brian de Saram said once as he was on his way to Akot having been transferred to work with Jieng missions again by the CMS from Loka School on 27th Dec.1945: "One had always had something more than a hankering for the pioneer work still remaining to be done in the 'Nilotic' area".[16] There is a clear indication from such statements that there was continuous discussion and prayer among the missionaries about the challenges they were facing in their witness to the Nilotic in general and the Jieng in particular. And they did it, God came to their help and Akot and other areas were growing. Now, though it had been difficult for them to get positive results from their working among the Nuer, they were coming slowly on board. The Nuer are are now coming back to the Anglican Church today in big numbers. And maybe it will be their turn again to see their revival coming. We have a few bishops who are Nuers working among their own people and we are hoping that God will bring strong and deepened changes, that will transform them like the Jieng and we will see new things coming up from the old models of their living, that was far from the Gospel's light and life.
Malek Revived.
On the other hand only five Jieng men had been baptized, along with some of their children, the sole fruits of 17 years of missionary work. The new brick church, St. Andrew's, had a Sunday Congregation of under 100, most of whom were mission residents. Work at Lau terminated in 1922 when the Lea Wilsons were transferred to begin Nugent School at Loka. Shaw was grieved that the station was deserted, its property being devoured by white's ants. Lau was not to be revived, and Malek was again the lone CMS outpost in Jieng Land[17]. The decision was hard but Shaw was fully in the picture of what were the root cause; it was the process which Jieng was in that caused this judgement on the provisions. Yes God's times are not ours. And salvation belonged to the Lord and none can be blamed here or praised for any good work or failure. All in all, the suffering and closure of Malek affected the other sections and districts that were falling under Malek and it is sure this had negative impact on their growth, such as Kongor and Duk.
Another Station For Jieng.
With the closure of Malek and Lau, there was shock and deep worry about the future of the Jieng. But that was not the end of the story on the 'Nilotic'. God did not give up on the 'Jieng', he created another plan within the 'CMSM', to relive Shaw and the Jieng to give hope for the future Gospel preaching'. In December, 1929 Shaw, now Archdeacon of South Sudan, again accompanied the Rev. R.S and Dr. Catherine Macdonald to found a new station at Akot. This site, 50 miles further inland on the West Bank, was intended to serve a vast Parish extending from Tonj to Yirol and Rumbek. Containing an estimated 200,000 people, it embraced four Jieng groups, the Agar, Atuot, Chiech, and Aliab. With the Macdonalds as a medical missionary team, a clinic was begun immediately with up to 100 outpatients attending daily. Soon an efficient school supported by two teachers brought from Malek, was functioning with over 100 students.[18]
In fact the scenario here is that Lau, the 'Chiech's' station, was moved further to Akot because of security from the attacks from Nuer, to cater for the rest of Jieng on the West Bank and it became a wonderful CMS Centre. It emerged later to Gel River and again back to Chiech Jieng, with Panekar coming up with other wonderful committed missionaries, such as Macdonalds, Noel T. Gill, Leonard Sharland, Brian de Saram and many others who worked tirelessly to bring Jeing to the feet of the 'Cross' of Jesus Christ and find peace and restoration in God.
As a result of this move of God, CMS, Shaw and all his colleagues on CMSM, there are today millions of Anglican Christians among the Jieng people, product of CMS Missions in the Episcopal Church of the South Sudan. These communities come from Malek ( Bor), Akot, Rumbek, Gel River, Maleng –Agok, Yirol, Aliab, Kongor, Duk, Panekar (Lau/Yirol); the former CMS Mission Stations. Members of the Anglican Church in East Bank of the Nile, from 'Greater Bor'—include (Malek, Kongor and Duk old missionary districts) can be estimated as making up 99.5% Anglicans in that area alone. For there has not been any other foreign mission that came to work among them since that time or in recent years except the Pentecostals which have not expanded so much, but are present.
Akot CMS-Missionary Station. 1929.
Now after Lau (Macuor) was closed 1920, and the missionaries taken to open Juba Mission station and later to Loka, Malek was the only CMS station in the whole Dinka land. And that was much of great concern to Archdeacon Shaw.[19] So as we saw in the previous sections, Shaw, R.S. Macdonald and his wife Cathrine who was also a doctor, went to open Akot in 1929. It is 50 miles further west inland from the Nile and Lau. It was meant to cater for the rest of the Dinka land within the Western Nile; Dinka land that included Rumbek, Tonj, and Yirol. Very rapidly an efficient school and clinic were established.[20] Later on the work was continued by Canon Arnold and his wife Kathleen. Arnold built a beautiful church at Akot that was burned down during the 1st Sudan Civil War, in 1965, by the Arab Muslim Sudanese soldiers.[21] This was also during the time when Bishop Rubin Maciir Makoi was the Parish Preist at this Church when Arab soldiers, coming from Rumbek, in 20th July 1965 wanted to kill him but he escaped for his life, leaving the church to be burned down and eventually destroyed after him.[22]
The Akot's Revival, 1939.
Then comes a time, when Rev. John Cllinson who also attended the 'Akot Revival' 1939, was the priest in charge, when the area was deeply checked and stirred up by the 'Jones' Revival'. Jon Majak, one of the teachers at Loka, brought the revival message to Akot and the church was strongly stirred up for some month's.[23]. What is not clear here is what happened to the 'Revival'? Yes, we have the songs, but we do not know what happened next. We do not even hear about Majak who brought the revival to Akot and the West Bank.
From the traditions we heard that the revival died because the leaders were not well versed with how to deal with the challenges ahead. For example, there was the influence of the culture whereby the practice of open confession was exposing many to criticism and danger in the eyes of the tradition. For example, if you have slept with somebody's wife you have to go to court and be sentenced. So many of this kind were said to have been meeting Majak and Pastor John Cllinson.
The Indicators of Revival.
There were indicators for the revival of 1939, of Akot and Malek, Kongor and Duk… there were so many songs that were composed that time and were a blessing to the Jieng Church to this day. One of the missionaries gave this recommendation or comment on this feature:
"Many others besides Daniel Ayup, a well-known 'Song-Maker' in the whole Dinka's CMS-based Churches across the Dinka land and in particular in the West Bank. He comes from Yirol, Panekar. They have been collected and compiled together with the help of Ashibal Shaw, and are printed into a small booklet, known as "Dinka Lyrics". They are completely indigenous. The message, the idiom, the rhythm, and tune are entirely their own so that here we have quite a new departure from 'Western ideas!
The thoughts expressed are sometimes quaint and perhaps even crude, but their flavour and direct simplicity cannot fail to impress us, for they are the native expression of a living, joyous, confident faith in the Lord Jesus Christ."[24]
Then he writes about Daniel Ayup and his gift of singing and says:
"Daniel Ayup, a Dinka'Song–Maker; with a striking gift which he uses in the 'Lord's service'. He was the song maker and chorus leader among his age group (mates) in cattle camps and dance meeting (loor)."[25]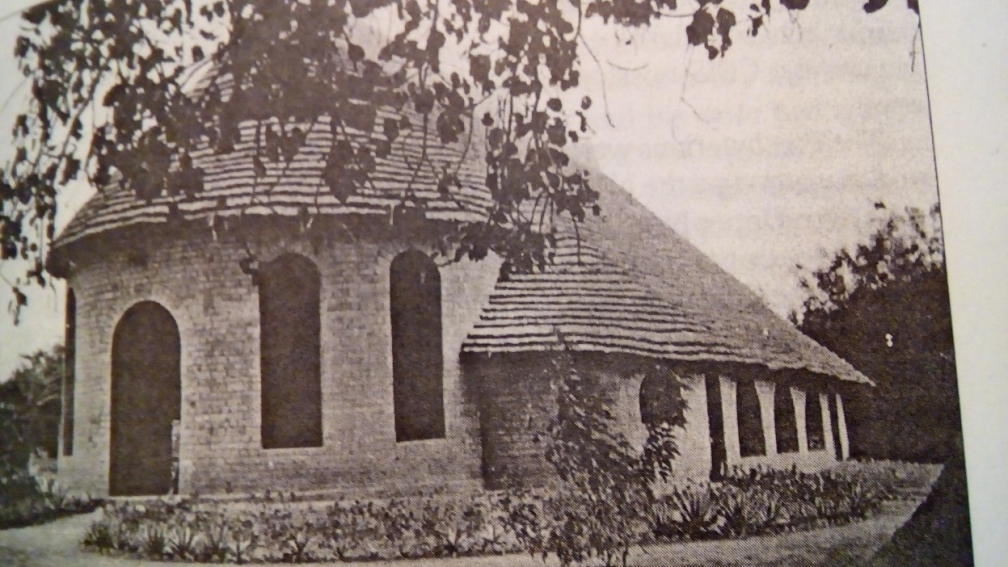 Photo 3. The CMS-Akot Old Mission Church, before demolishing by Khartoum trops 1965. (But God is not defeated P.
Evidence of the 'Spirit let-Movement'.
In his comments he evaluated the 'Revival' and concluded that movement was of God's making, though it died out suddenly but that God has visted his church in a way nobody can doubt because of the blessing he has brought and left to the church through that movement of his 'Spirit'. He believed that this has been happening everywhere in the history of the church and these are always their indicators. So there was a revival in Akot no matter how long it took. "When 'spiritual fire' is enkindled, an outburst of praise and devotional songs follows. It has been in all times of revival in the 'West' and in no less evident as in 'Africa'."[26]
Malek Revival, 1938.
How did this revival progress and how did it die out? What happened? Did this revival cover Kongor? Did Duk's Church get its own renewal apart from the Malek or didn't Malek show any signs of renewal at all? It is very strange nothing of similarity to Akot has been heard of Malek's revival which was led by Daniel Deng Atong, one of the teachers who was touched by Richard's Jone's teaching at Loka, 1938, when revival broke out.
Church's Reports from Dinka Land.
Malek Station Report.
Here is an extract from a report from the Malek station:
The work has been more the same as last year, and with no definite improveemnet, save in the Early Mrning Meetings, in which more intrest has been shown, and it's value realized.
There has been a real desire to have a lot of Open Air Meetings, but the position of Malek does not offer the population several Open Air s have been held, however, under the tree on the station. These meetings were well attended especially by the crowd of young men and girls from the cattle camps, wesent out people to ask them to come, and many of them do come. They listen very well and very often ask questions which are gladly welcomed and answered.the neignhouring villeges remain indifferent but they are still being sought for by prayer and bypersonal contact."[27]
Duk and Kongor.
I have been worred very much about these missionary stations - simply they have not at all aperared in any of the writings of those who wrote about the church of South Sudan, while there are many echoes that were heard from within those communities about the activities of the church. Some song are even still being sung today especially from Duk. This is one of the reports which I came across, written by Daniel Deng Atong, the chief pastor of Malek Parish, St. Andrew.
"The Christians now number over 300, with about the same number of the Catechumene. But the number of learners (Dukoor/Discipleship), is as much as both the Christians and Catechumne put together and most of these learners are to be found in villeges, especially in the Kongor and Duk Area. The Good News is spreading rapidly in these areas and therefore much supervision and care is needed to build up the faith of these 'babes in Christ.'[28]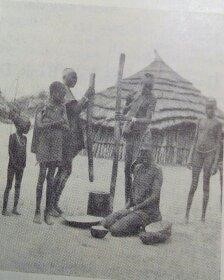 Photo 4. Dinka Girls preparing food. (Southern Sudan Mail Bag, No. 7, March, 1948, p. 8.)
Again, another report was written by Pastor Daniel on Kongor and Duk just one year later, to convey the bad news of the death of the two prominent chiefs of two areas who were leading faith and worship in these centres. He is expressing his worries and fears of the decline that followed and affected that area due to these sudden deaths of Chief Deng Malwal of Duk and Chief Ajak Majok of Mar. And in these areas there were already churches and Christians including Cir as a centre.[29] You can see from this piece of information below:
Kongor and Duk District.
"In the last report it was pointed out that three chiefs were the leaders of spiritual things of their own people. These were Chief Deng Malwal of Duk and Ajak Majok of Maar, and Madiing Majok of Cir. Two of these fine men have died, Deng Malwal and Ajak Majok. The death of these two men has shaken the faith of quite a number of their believing relatives, and many have either given up their faith altogether or just gone cold. But there are many others who are going on strong and fearless in spite of all these sad and discouraging things."[30]
As you can see there has not been much discovered or recorded about these two areas, including Yirol (Pan-e-kar) as it is the case of (covered) about Akot's and Gel's Riverl. But with this report, one can now assess the decline that this has caused. Imagine chiefs who have not been trained or who do not have help and spiritual guidance from any other established chriistian leader but who try to take upon them such tasks which would look easy from the beginning but get difficult in the middle. So as soon as people see their promising leaders in the local church dying because of anything having to do with work of God they will immediately doubt in that faith. This is exactly what happened in both Duk and Mar and the whole northern area of the Distric or Missionary area. There were no foreign teachers but it continued to depend on its converts. And since to Jieng region (as pastor Daniel puts it in one of his reports) is a business of elders and not of young people or children, therefore chiefs saw to it that their comments and the short biblical reflection they gave was better that staying without a teacher or someone that can be seen fit to die in the eyes of tradition. The chiefs therefore were seen as pastors but without knowledge and with a poor knowledge of the word of God and the scriptures. So it was a difficult job to do and who know their death was a work of the devil that tempted the church for a lack of faith to cause decline and confusion in the ranks of believers.
The work in Kongor and Duk Area has been almost entirely left in the hand of the teachers, though there was ocassionally visits by me at long intervals. Since my absence and that of the two evangelists the work has suffered much; that was what I felt every time I went out. The people are not quite ready to listen to the teachers. This is partly because religion to the Dinka is a thing for elders only, and there are special times where the young are allowed to attend a ceremony. I believe they regard Christianity in the same way. I can remember on one occasion when I was preaching at a certain place, that one of the elders after the preaching gazed at me and said to the others, "But he is rather young!"Daniel Deng Atong, 1946, Malek Report[31]
Kongor
This is another report on the Kongor church and how faith and Christian life was growin, with a growing need for pastors. The training of evangelists was missing and necessary to back up this growth.
"The work in Kongor is flourishing well, and the numbers of adherents continue to rise. There are about a dozen people ready for baptism, and two of these have already been baptized out there. Preaching has been done by the teachers whenever they could, and there is an all time Evangelist. He has been going about preaching, and writes down the names of every place he preaches at, and number of attendances. The people try to give a few coints to help God's work; but they are pressed too hard for fear that misunderstanding might arise"."[32]
The First Jieng Great 'Song-Makers'.
During this time, many songs were composed by the local Dinka composers from the West Bank, Akot, Maleng-Agok, for Agar-Jieng people. This also happened further afield in Panekar in Yerol and back to Gel River among the Gok people. These were the new Missionary Stations founded among the Jieng Anglicans of West Bank, in Bahr El-Gazal. Many great things, such as the development of education and the growth of faith and encouragement of Christians, took place at this time as a result of a new movement of the spirit of renewal and faith, which was reshaped by those songs.
All in all there were lot of songs of praise to God composed as a result of this revival of 1939 which began at Loka intermediate school, led by an English evangelist called Richard Jones. It brought a lot of change within all Jieng Mission stations, even among the Nile divided Dinka of East and West Anglicans. These again were composers from Akot, Maleng-agook for Agaar, and from Pane-Kar, Yerol for Ciec where Daniel Ayup comes from, and River Gel of Gok people, where a lady called Kueny E-Magok comes from. This was from the West Bank and from the East comes many other composers. From Malek there come song-makers and from Kongor comes Deng Bior Duot and finally Duk Deng, where you get a great song-maker Mary Nyaroor Deng, and Chief Lazeroud Jo-Gaak Deng Malual. They were all from Duk Deng with rich and spiritual songs, as you will see below. There were many other song makers coming up in all corners of Jieng land speaking of their new faith inbetween these times (1939s-60s) in our modern history.
Daniel Ayup of Yerol.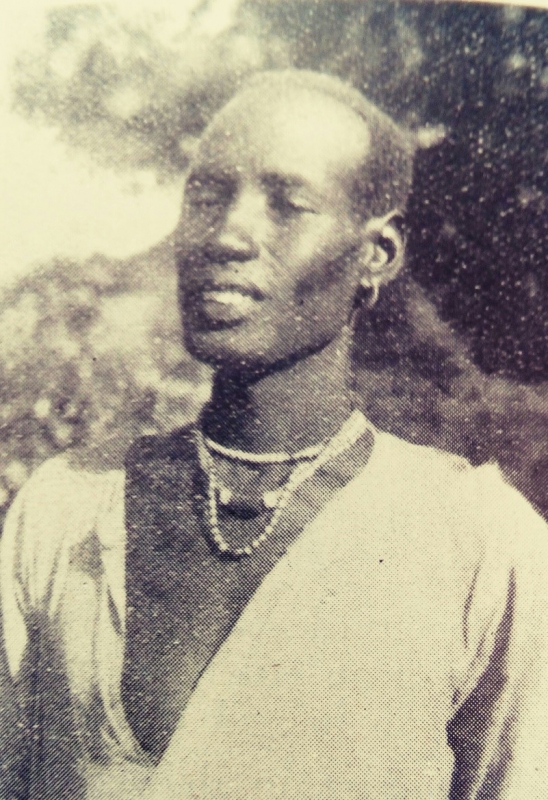 Photo 5. Daniel Ayup, Christian 'Song-Maker 1940s (Southern Sudan Mail Bag No. pag 12, year 1946)
And then from Yirol came Daniel Ayup, a 'song-maker' as the missionaries called him. There are more songs composed by him at that time than anyone else among the Jieng Anglicans during the reveival. He was from Chiech-Jieng, from Yerol. He either comes from Lau or Adoor or Jak.
Daniel, according to what I heard people saying about his background and life, was a hunter. This is what came out from his testimony.
Daniel was a hunter specialized in elephant hunting and it is one of the harder jobs one can take and expierence. He had a heavy huge spear that he would take and climb to the top of a very high tree in the animal path and hide himself in the tree for long hours or days. When the elephant comes he would then allow the spear to come down on the elephent's neck and without fail targeted the holes that joins the spine with the skull and the elephant would lose balance and fall immidiately. He did that for some years including different types of animals.
But one day something strange happened. One elephant targeted the tree that had caused death to many of its collegeagues and then he came face to face with Daniel by pulling down branch after branch. It was a shock to Ayup and he began to call upon his jak, 'Col-wic', 'Adekek –dhor'. 'Malual', 'Atem' and many other gods to rescue him but the elephant did not stop and no god or jok would stop the elephant until there remained only one branch. Ayup jumped onto it and the elephant was about to catch it when Ayup remembered 'Nhialic', (God) and immediately he cried out, "Nhialic doma-cin!" In Dinka it says: "God catch my hand!" Immediately the elephant turned back and walked away. Ayup collapsed and went into deep fear and wonder. How can that happen? Am I saved by God and God alone has the authority to stop elephants and to spare me! That is what I can not forget in my life. Ayup then came back home leaving his spear behind him and went to the church, told his story of how God saved him and that he wanted to accept to be in his house.
Ayup entered into baptismal class and was taught so many things from the Bible. He heard sermons and teaching of stories told of many people that God has saved, who were delivered and healed from their diseases by Jesus Christ the son of God.He was baptized and became Daniel Ayup.
It is not clear here when Daniel started singing. Was it because of the revival of Akot and Loka or from his call and expierence with God's salvation from the hand of the elepheant? This needs to be confirmed from the record of the missionaries left to us in different archives. It is a miracle that needs to be known because these songs kept the Dinka alive and strong spritutaly as I know. If you were to evaluate the sources of strength of Christianity in all these old Missionary faith churches, you will find Bari and Moru are being reinforced by the East Africa routes through "Malo-kole" groups which were inspiring every corner of their communities. While for Jieng spiritual life, it was the "Jieng-christian songs" of that time, whereby people like Daniel Ayup were used a lot by God. They are natural to Dinka ears and hearts. The music and rhythms are completely Dinka though they differ slightly from section to section. The tune and the terms are completely idiomatic to the Dinkas and there was not any resistance at all from the cultural and theological point of view when any Dinka from both West and East Bank hear it. They were transformative and blessing. Their power and theology has not changed to this day. Terms such as:
"An abe anhom wel yiin Waa,
Ku an abe jai Adek-Dhor,
Buk gueer Luang Achieng yene wel luel Akolic,
Col Yecu."
(Jieng).
"I will turn to you (my face), Father,
And I will renounce/ reject 'Adek-Dhor'
And we will gather into the Luak (House) of a creator called Jesus,
Whereby, His words are spoken under the Sun-light.
(Enlglish translation)
There is much more theological and spiritual teaching and instructions in these songs, as you can see when you sing or read them. They are recodrd with the help of Archibal Shaw and are called "Jieng Lyrics" or "Diet ke Jieng", as they are known by Christians. They speak to older Generations and with their music they are not poluted by the current musical changes in worship among the Jieng.
Here is one song from Daniel Ayup:
Wargnag to nhial,
Ee Biabol!(2)
Aaye wo nyuoth ka yuk baai,
Ok aangot e wo kuany nyin,
Aa ok ken guoa nyic ee,
Tebi Waa, keyeneye,
Na tul Wada!
Ke waa abe wo pooc piny waa,
Buk roth jot piny abak.
Adeek-Dhwor, yene jonge nyicku waa,
Panda, panda,
Anaba nhonm yien wel waa,
Ku an abe jai Adeek-Dhoor,
Buku gueer Pan/luang Achieng yene wel luel Akolic,
col Yecu.
During this time, the missionaries were present and doing a lot of activities. There were not many Christians but there was a strong sense of faith that could be felt in the songs that were composed with the traditional rhythms. They were moving spiritual songs that kept the Church inspired for many years, throughout the sixties, seventies and up to this day. There were many other songs composed in the second revival as we could see today. These songs were mostly choruses but they were so close to the heart because they were composed within the Dinksa traditional rhymes. They are very much appealing they are always sung with a Dinka typical music, of Agaar, Ciec, Bor Twic and Nyarweng.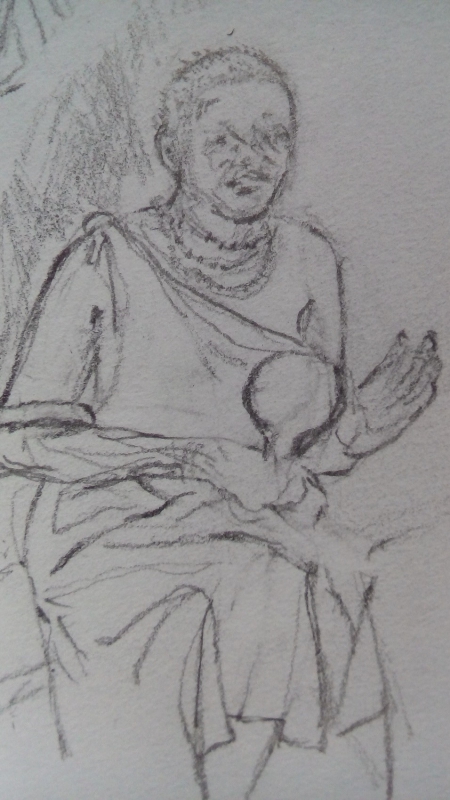 Drawing 1. Mary Nyaroor Deng, Christian 'Song-Maker' 1940's (Drawing by Bishop Hilary Gerang Oct. 2016).
Mary Nya-Roor E-Duot.
Mary Nyaroor Deng, comes from the Nyarweng (a sub-clan - she call her clan 'Jur-Aweng' in her songs meaning 'Nyar-weng people'). She is one of the greatest Christian 'music-makers' of the first Revival of 1938. She was a strong witness and preacher of generations of Jieng christains, of her time and throughout of the 'Gospel' of Jesus Christ. Her music spoke the language of a theology of all times, as you can sense in her songs. They were mostly chorouses. Her songs were inspiring in a similar capacity and way to the songs of Daniel Ayuop on the West Bank and many others in the Jieng's Anglican Church of South Sudan. She had a fascinating ability and capacity to compse songs and she was a real evangelist and source of encouragement to the church. She was a good fighter of the salvation of souls under Christ's banner. She was a blessing to her hearers all over the place, in those days and throughout the history of the Jieng Anglican church.
Mary was one of the revived Christians of the 50s. She lost her faith after the expulsion of the missionaries and the dispersion of the Christians during the great flood, and the political turmoils and displacement of southern people to the neighbouring country of north Sudan. There were no church activities in the area until 70s when the church started to create outreach missions. During this time it looks as if she backslid or she decided to stay without jok as some people do in Dinka culture. She then came back to faith in 70s and I met her in a place called Pock-tap, at a newly formed church. We were happy to see her and were comforted to see her embracing what she had decided on before to follow and have life after when she depart this world.
There are many touching and strikingly moving songs that inspired many of Jieng throughout the history of Jieng Anglicans throughout their new way of worship in Christianity. They were composed long ago but they are still aive and bright and carry the spiritual true strong Christian and biblical meaning to them all in all time and at time. Mary Nyaroor died during the second Sudan civil was of 1980 and I am sure she left a strong Christian legacy to her local and national wider church of Anglican Church among the Jieng people.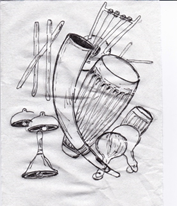 Drawing 2. Jieng Musical Instruments: Drawing: Bishop Hilary Gerang Oct. 2016.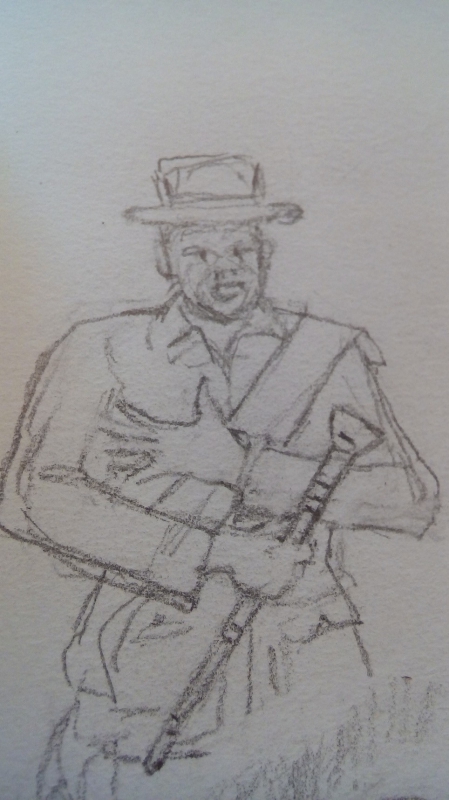 Drawing 3. Chief Lazrous Jo-Gak Deng Malwal, 'Christian-Song Maker, 1940's (Drawing : Bishop Hilary Gerang Deng Oct. 2016).
Lazrous Jo-Gaak Deng Malwal.
Lazrous Jo-Gak Demg Malwal is the son of a Deng Malwal, the first prominent chief of the Bor-Dinka in the early forties. He is from Nyar-Weng, Paluaal, a sub-clan of Nyarweng, in the Bor-Jing of the East Bank. He himself became the paramount chief of the Nyarweng people, in the place of his father Deng Malual 38 (He is like their king).
It was shown that 'Nyarweng 'did really expierenced revival; many recall today that the impact of this spiritual renewal and movement among the Nyarweng people left the rest of the other neighouring Jieng witnessing. It is said that Deng Malual himself during his life time as Chief was a good believer and maybe this is what led the Nyarweng into Christianity. He was a powerful chief during the colonial time and he led and displayed many good qualities of a successful leader. This was the same with the second chief Ajand de Duo Bior, he also was a Christian and left a strong and amazing legacy behind him after his death at the hands of the Arab Muslim rule in Sudan 1968, in Bor with many other key Bor tribal chiefs.
With this impact of the revival on the Nyarrweng and the family of Chief Deng Malual, Jo-Gaak, his son began to show more development of faith in his clan. He composed a lovely song that I dearly sing whever I am in trouble and problem. I lead singing it in the church throughout all these conflicts and strife within our country and people sing it with lots of comfort. Its words make you look for the Savour's help and reach out for his power and strength to deliver you. He says in his song, "Yecu yin ngaaath!" which means, "'Jesus I trust in you' or 'my hope is in You!' "
Jo-Gaak died during the first civil war when the "Great-Flood", known as 'Paweer' *39 (dams which were constructed alonf the Nile course, caused uncomansated displace within Bor Dinka areas, 1961) scatted people. He himself encouraged people leave for the cities and one of them who could remember his words of wisdom is Bishop Ezikiel Diing Ajang of Twic East, who grew up under him. He died and left an inspiring song of faith that all sing with much comfort in their souls in hope and confidence that their Lord cares.
The songs of Mary Nay-Roor:
Wut-aweng da, ku yake tak eke ce ye nok?
Aaya aweec ke gupkou, kake jakrac,
Ke ce Yecu gum e tiem Ageer!
Ajueeny ajam!
"Aayee ran ace Aleer cuony,
Ke loke ye!
Aayee Luang Aleer, Wa, Paaden aka cii be tou ke cen awai!"
Ke lueth ee,
Wo kai ye koc ke Yecu, ke wo cen agam.
Aaye ren de Paguith jam:
Ye "Kaaye koc ka Akoi, keka ce nhim maar e kuath!
Waragang e yeene xok goo ee,
Yen yen ce rot wel keyen ke yene…….."
Cu coor cu ming,
Ku doorda, aye reec peen,
Banydit ba wo nyuth ceng awai!.
The following is a song of the chief Jo-gaak Deng Malual ( Dinde Jo-gaak Deng Malual).
Yecu anyin gnaath!
Yin ee Bany e wo loor ee,
Te cii reec wo yok aai.
Wo reec wai de Mioor,
Koc aaci bere gaath waa,
Acii Bany eto nhial kuum,
Man bii door ke wei yaai.
Ran da adhuoom ngem rot waa,
Akuoc wel aanyieeieke,
ok a kuan de Maleng ye piir,
Akuocwel, aanyieeieke.
Tinge emok ethieeth ngem rot maa!
Akuocwel aanyieeyeke,
ok a ye kuan e Maleng ye piir,
Akuocwel aanyieeyeke!
Yeenga be dhel athiei bai,
Pinynhom ayong koc e tieel,
Kirtho Benydit en ye Nyok.
Ee wo waar eriamde,
Weer weikuo.
Ce Banyda jal thou e reec,
Karec to piny, Kake mooth,
Ce Banyda jal thou ke thiar mith awuutke.
Chief Jo-gaak Deng Malual/ from Duk Deng Christians.
And from Kongor, comes the song of people like Deng de Bior (mostly known as 'Deng-Aliau')
Ye waa, wo dac loor!
Wo nog gup acuol,
Ku ajong de kather wan ce waakbei ne/ weerbei e Yecu (2)
Yenga ye wo pooc piny? Ce Yecy(2)
Go Nhialic Malaikai tuoc,
Be wo marpiny wakou,
Pinyda acii jou riook,
Jol Bany wo kony ee,
Liep wo kueer re lo nhial thok.* 40 (Diet keJieng)
The Cry For Revival In Dinka Land.
At the time of the first missionaries, the cry for revival among the Dinka people was a strong desire. They heard the 'East African Revival Movement' reaching Yei and it was going ahead seriously but they were wondering how that could happen in Akot and other places like that.[33]
"We praise God for what is happening in Yei District among the Kakwa people; evangelism and the spread of the Gospel seem to be going ahead by leaps and bounds but we want it to happen here at Akot, and among the Dinka people as a whole. But how, how can any man bring about a movement of the Spirit of God at a given time in a given place? We can but study means and methods, and try to bring about those conditions in which God is able to work"[34]
This meant that at this time, 1950, the Revival had not yet arrived in Akot so they doubtedthat first revival where many activities took place but could not grow beyond.
Peace Time And Church's Growth.
At this time, numbers of such issue were heard over and over happening in many village churches and local communities. There was peace and tranquillity in the area. Marriages were conducted peacefully. People were happy. There was not anything threatening, any fear or other physical hindrances of movement, no 'Mule attacks nor Nuer hostility, raids or political aggression of armed groups.
There were trade and administrative issues carried out by the government in the area, and police and security was good. Cases were settled amicably in courts and so people were happy indeed compared with the situation the country and life is in now in South Sudan. School children were moving from time to time, coming from boarding school to visit their families at the villege and go back. They often taught the Bible and songs during their holidays and some contributed towards making a strong impact on their families. Many accompanied them to their local churches and were converted by hearing the massage of the gospel being preached in their own language. The singing of songs, the readings of the scriptures and the preaching and interpretations including stories and testimonies that were all in the cultural context and language of their people. So a great move and explosion of a situation happened.
The second Revival.
(A New Revival Movement Begins (1970-1995).
This period of time was caused by the labour of a few simple young men; not learned or educated evangelists. They were not even Church workers with known titles. But they were well known members of the Church for their faith and commitment to Jesus. It was a youth movement in it is nature, from within the Church, in Khartoum and Juba, among the Bor-Jieng Christians. They had a series of meetings and plans, taking from the experience they had in Khartoum to win many souls and did the same in Juba and Bor. It was from those "Evangelistic Outreach campaigns and Missions" by the Bor-Dinka young Christians that God started a new thing. This was in thr early seventies, after the "Addis Ababa Peace Agreement* 41( like CPA, it brought peace home to South Sudan), was signed in the Ethiopian Capital Addis Ababa, and that is why it carries it's name. In 1972, this movement resulted in the Ground-Breaking Revival of 1990s, among the Bor-Dinka Christians (People) of Sudan then and now South Sudan. The significance of this revival compared to the first revival of 1938, was that it brought about an unaccountable number of changes across and within the restricted religious patterns of the Bor Jieng clans customary laws and beliefs, throughout villages, courts or counties. It was significant because of the dramatic serious changes in whole areas, which at one time didn't respond to the message of the first missionaries but continued to resist and which ended without any clear fruits. It ended in the frustration of the first and the last missionary of the Gordon Memorial Mission, who were the founders of Episcopal Church or Anglican Church in Sudan, as it is today. Archibald Shaw (Mashuor) and many other were key.1
This revival brought about immeasurably rapid change and positive results in an immense movement of the spirit which resulted in the conviction of multitudes and broad-based impact and fundamental change in the whole area. Many abandoned their ancestral gods, ways of worship and traditional religious ways of life and cultural beliefs. They came to embrace Christianity, the real and true God that they kept resisting and declared Jesus Christ as their Saviour from the death and tragedies they were in. And they were doing it happily and joyfully, with confidence and assurance.This transformation and the style of these changes came unexpectedly, especially as they were seen throughout both individuals' and general transformation that continued to hold throughout the time of war until today, after the peace agreement was signed between the South and the North Sudan, January 2005. These changes were great but without proper training and with a low level of education of the pastors who are pastoring the flocks, new problems arose around leadership. Many of them are evacuating the job and are joining the Government or NGOs who can pay them better. It is even worse with the evangelical Churches in the country who have joined politics for financial benefits. It is an on-going general problem in the county that needs to be looked at closely by the leaders of the Church as a growing factor of decline in a church development that can not be resolved in isolation without the Church providing solutions. And because of this, it looks today as if, after this great movement that lasted for more than thirty years, we begin to see that the warmth, the depth and the love of many has begun to grow cold and its radiance begun to fade away gradually. This might be because of a lack of effective pastoral care and the new responsibilities that many are engaged in, in addition to new national building issues which rest and are established on their shoulders. This can be counted as a problem, plus the continuous growing political strife and turmoil that the Country is in throughout.
It is the story of a Church that was founded through the witness of a few faithful, courageous and committed western missionaries led by Church Missionary Society (CMS) with their new converts, in South Sudan. It is that Church that has emerged into a full grown, established Church today, known as the Episcopal Church of South Sudan, particularly among the Bor-Dinka people.
It is about a witness of converts of the Malek Mission Station that began what is known widely today as the Episcopal Church of South Sudan and North Sudan. It is a story of 'Faith and Mysterious Conversions' among the Bor-Dinka Christians, in South Sudan. It includes some testimonies and reflections on individual's call and ministries. But we have concentrated and limited ourselves somehow to a few areas and additions from the other regions because of time and resources. Our main focus on this paper is on the Bor-Dinka-Anglican Christianity in-between (1970-2000).
How it began?
This is how the story began and how we always narrate this story and trace it back. It was after the Addis Ababa agreement period, when peace provided relevant tranquility in the South. There was no danger or fear for lives in any way from the Sudan army, which was always the source of insecurity in the country. There was free movement in all parts of the South after being given a self-ruling Government and so schools were functioning again. And civil service and trade were restored and functioning well. New roads were constructed, business and trade came back to life and easy moment and stability were felt by all. All parts of the country were mostly connected. There were churches in many towns and they began to grow in number. In many places many school children became teachers.
During this time, many teachers began to emerge from local churches in Khartoum, Juba, Wau and Rumbek, especially from Rumbek Secondary school where I was also a student. And in one of their meetings, when Archbishop Daniel was among them, strategies were made to launch evangelism to northern Bor during the dry season. And this was fulfilled. They went in a big team.
Bor-Dinka people are a group of clans within the Dinka tribe of Southern Sudan, inhabiting the Southern Eastern Nile of the Greater Upper Nile Region. The name came to be applied to a number of sub-groups of Bor, Twic, Narweng and Xhol Dinka communities that had been inhabiting this area before the modern era came to shape them.
The first CMS-Missionaries stationed in 1904, in South Sudan, at a place called/known today as the Malek (Station). In this place the CMS mission spread into the rest of South Sudan, but with the expulsion of the missionaries in 1964, by the Muslim oriented Government, the Church was left alone as an infant. All CMS missions in the whole Upper Nile Region were handed over to the American Mission (Presbyterian Church), while leaving Malek to die naturally, alone without any supporting parishes left in the area except the Bor town worshipping Centre.
Around this time Archibald Shaw retired early and didn't go to Britain, but continued to stay in Kenya, with frequent annual visits to South Sudan until he died 1956, in Nairobi. The Christians of Malek were prepared to transfer his remains to Malek or Juba, after the creation of the Diocese of Malek, where he shared the love of God with Bor-Dinka and other parts of South Sudan. 104 years later, Malek with its long history of faith became a Diocese, and one of the sons of those who persecuted Shaw became its bishop.
Since then, Bor was left with one Parish, and throughout the civil war, all Christians from this mission were spread all over the country by the effects of war and floods, like the Paweer, or Great Flood of 1960-64, but they carried with them the Gospel. They established churches in big cities including Juba, Wau, Malakal and Khartoum.
At the same time there were those who went to live in the rural areas, with the unbelieving village population, among the animists and worshippers of the African traditional religions, following the ways of their ancestors. They were swallowed up by the rural majority faith of the African traditional styles of beliefs, with their old ways of worshipping God and so slipped back. We have already looked at the example of Mary Nyaror Deng, a great composer of many moving spiritual gospel songs. But thankfully, she was restored by the works and the missions of the evangelist who had taken the gospel again to the rural population, when she met them and gave her life again to her Lord and Saviour Jesus Christ. She continued to shed tears when the Holy Spirit spoke to her heart when she heard her old song being sung in the Church's worship, through her songs that she composed in her early life of faith. She didn't leave the Church and walking with Jesus Christ, this time until she finally died in 1980's in Duk area, and today becoming the Duk Diocese.
This was the darkest moment in the history of the Episcopal of the Sudan and Malek Mission in general. It was a difficult time when the Church was silent in many parts of this area of Greater Bor-Dinka, due to the Anyanya movement that was fighting the Government of the Sudan. There was also the impact of the 1962-4 flood, which displaced the whole Twich area for four years, including parts of Athooch area. Also at this time the extremists with the military regime in Khartoum, through its agencies, plotted to kill all the Bor Dink chiefs, including their paramount chief Ajang Duot, in 1964. This also increased the fear of the population and everybody ran for his life, as immigrants to live among other communities including Nuer areas. The fruits of the work of the missionaries, particularly of Ashibal Shaw (Mashuoar, his Dinka name) and the Malek Christian community of faith among the Bor-Dinka were not clear, nor seen or active.
Not much was happening at this time in terms of parishes and centres, established in the whole area except the Bor town. But here also, the size of the Church was small and run by laity who were mostly government officials. There were few priests ordained to work among the urban and rural communities. No churches were holding Sunday prayer anywhere in the whole area. But the displaced Christians, including those students who were school leavers of Malek Primary, who were working with the Government and who did not wish to join the Anyanya Guerrilla Movement at that time, went to big towns and cities and formed congregations. In Khartoum, they went to ask leaders of the Evangelical Church in Khartoum Bahri to give them a chance to worship God; to conduct their prayer on Sundays and Fridays, with adult education in English and vernacular (Dinka) in their club in the evening.
Friday was always the official holiday in the north while Sunday was the public holiday in the South. So they had to hold prayers on Friday evening because that was when the majority were free from work. Most of these Christians were employed by factories and Government institutions in Khartoum and the rest on Friday. Southern people were comfortable with this but the northern Muslim population, with their Islamic element within the Government, were extremely unhappy with so they made a decree to remove the Sunday holiday from the South. But it was met with resistance; all schools, and some Government sectors, in the whole South went on strike. They left it as such but with high tension developed between the two public opinions.
The Egyptians Church leaders, who were leading the Evangelical church at that time, granted them their request and the Dinka Congregation (as they used to call it) started with seven members. Among them were, the late Philip Ajuong from Agaar-Dink, Rumbek and Justice, Geu Anyaang, layreader Kuany de Mabior (one of the elder of Dinka Congregation). They didn't have a priest by they went to request the Bishop of Khartoum to oversee them and possibly help to train the good number of evangelists who were running their few growing preaching centres within and outside Khartoum city. The bishop agreed and sent one of their evangelists for training; this was the current forth Archbishop of the Episcopal Church, the Most Rev, Daniel Deng Bul Yak. This was in the late 70s. This was followed by another good number of lay people who are still key leaders now in the Episcopal Church in South Sudan, among the Greater Bor Christens.
This Church grew and became a big Church that began to send missionaries and Church workers to the other parts of northern Sudan following their own Christians. They normally prayed in Dinka a using Dink-Bor hymnal and common prayer book that was translated by Archibald Shaw and his co-workers at Malek mission, at the beginning of the CMS- Mission work in Sudan, then and South Sudan. It was the first Anglican liturgical book translated in vernacular and Sudanese local languages. And to this day, this version from 1662, has not been followed by any translation of the other new versions, such as the Alternative Service Book/ 1980 and the new adapted Common worship. These Christians normally ask one question when they hear of any translation of any new liturgical book by saying: "Has the Church of England approved the use of another book!" Meaning 'are you sure the Church of England has abandoned this book and we are to do away with it, by how? Tell us!'
They do not know that there can be a way of using another book of prayer with the same capacity and value alongside their own old book that they are so used to. They are conservatives and would not let go of any chance that can cause them problem later. These are also issues of leadership to solve and teach. Only those who went for training understand these developments within the liturgical areas.
Also, one negative aspect resulting from this accommodation of the Egyptian Evangelicals to the congregation of Christians of Malek mission, which was affected by war and political turmoil in the South, is that many didn't very much care for the tradition they were following. They all took up the models of evangelical Church in terms of setup from the inner setting. For example, usually they place the chairs of their leaders at the front during the worship with large tables, which they see as the only model. Later, when the Pentecostal influence also came in, this confirmed this style that they used and it was applied everywhere within the Greater Bor-Dinka Churches. It is difficult to remove or debate about it. People are so used to it because it has been part of them for the last forty years, since it was met at the evangelical Bhari. They always feel uncomfortable with any different pattern that does not look the same with the model of Bahri. They were so much blessed in this Church and so they value it so much.
On the other hand, not many have seen how worship at Malek mission look like, nor has any priest from the old tradition led this new movement. Tradition matters a lot and it is one of the marks of any Christian community or denomination. What would be then, when you are claiming one thing and do another thing? Well, you may argue but there is nothing to argue about or differ on, it is just a mistake that took us unknowingly and which can be adjusted, whenever the time for the leader to be listened to has come. And the Bor-Dinka needs to check on that with sincere heart and eyes of faith. There is a saying now that the Bor-Dinka Christians are "Anglicans in principle, inwardly, but they look different from outside!" This is due to the teaching they have been through, including the ministry of "JOL-WO-LIECH" AND "THIECH NHIALIC". Their ministry is so blessed but they have worn it as a different coat or coats that look completely differet from the rest of the Anglican Church, within and without. There is nothing wrong within, but we must create a common ground where we can meet as ministers of the gospel, even within different cultures. For any institutions we build or structures we create must not look exclusive of other in this faith in any way or any form
But later, after the witness of a few; almost seventy five years after the labour of Ashibald Show (known also as Mashuoar, a grey bull in Dinka) the Church sprang up again in many parts of this area, through evangelistic missions that were organized by the youth missionaries from Khartoum Congregations and Juba, to the northern parts and middle of Bor-Dink Area. Later it covered the whole area, from Duk to Abii, after the civil war forced them to leave their home areas, to cross to Kenya, escaping death and losing their property and lives of their loved ones. Here a strong revival shocked the whole community of the Bor-Dinka people under the leadership of Bishop Nathaniel Gerang Anyieth, the Bishop of Bor Diocese by then. Many Churches were opened in refugee camps, in and outside South Sudan. This movement also covered northern parts of the country of Sudan, with churches and the number of Christians multiplying. It is hard to believe such a thing happened, that a community that had not been able to respond to the Gospel at the beginning, in the first days of this mission, but at last it surprised many. And this is the good part of the Malek Mission and in the work of God in general. The dead Church has come alive; resurrected again, and the whole community was changed and transformed by the grace of God. So, through persecution and death, humiliation and long suffering, God brought about joy and salvation through Christ and the work of His Holy Spirit. Amen and Amen. Amen and thanks be to God for his grace and his miracles.
The tremendous and major change that was brought to the community from the roots by this revival, in terms of changing the traditional way of living was amazing to us all. I came to Aliab with Archbishop Benjamina Wani, from Juba, with a delegation of 65 senor priests from different background and what we saw struck us deeply. We saw the elderly women with complete charge and people holding crosses everywhere. Almost evebody had a cross in his hand, in the Church at Puluk, Kat-thok, and Aliab area. And here Bishop Eluzai Munda of Mundri who was accompanying Archbishop Benjamin, said: "Today God has fulfilled what was prophesied by one of the missionaries in the past that, one day the Jieng people will turn their sticks into the cross of Christ, for peace purpose and not for harm." He was true in saying that because what we saw was something completely new in our eyes, to see the Jieng people with that amazing transformation. We will try to look at this from all aspects of Jieng's life.
The Pentecostals and Charismatic Movement in Sudan.
The timely coming of the Pentecostal's teaching produced a new dimension of approach to the scripture, one of the things that has been difficult to bridge throughout the time of missionaries as well as the Sudanese and in particular the Jieng clergymen left in charge of the flock after the missionaries.
In the Dinka culture, it is always believed that the presence of the "spirit's manifestations" are real during worship and can be seen. So the Dinka in general worship spirits that are manageable, manifest and under the command of their owners. They say: "Jong cee yoot!" meaning the "Spirit that does not manifest!" Then if the spirit doesn't manifest it means that that jok or spirit is not there. It gives the impression of the time and experience of Elijah and the prophets of 'Baal'. When they were arguing in the Book of Kings before Israel about whom Israelites should worship, whether the "True God, Adonai, Yahweh, or "Baal-zebub" and "Ashira", and Elijah was so furious that the God of Israel, Yahweh, sent him. The prophets of Baal were also challenging Elijah saying what they were worshiping was also a true "god". And so the Israelites were divided in mind and spirit and did not know the true god that they should worship. Their theology and social life was affected greatly by that situation for years.
So the only thing to happen was for the two gods to answer their prayers when the Israelites prayed to them. And they went to Mount Carmel where both the two parties were to dig trenches, kill animals, fill the trenches with water around and start to pray. The prophets of Baal prayed and there were many of them against Elijah alone. And as they and Elijah prayed over his sacrifice, the heavens opened and a fire came from heaven and consumed the sacrificed. At that scene, they all fell down in awe and fear and they cried out with loud voices saying; "The God that has manifested himself and listened to Elijah was the "True God, the Yahwe", the God of Israel" and not the "Baal". And then Elijah did not compromise with the prophets of Baal but he commanded them to be killed and slaughtered them because they had misled the people of God.This is exactly what happened in many parts of the Jieng people.
Pentecostalism Gets Establishment.
When many of the Pentecostal leaders, including Bishop Nathaniel who himself was trained by the Pentecostals, began to teach I was among the groups of youth in Juba, Dinka Congregation under the Archdeacon Kethedkia B. Mabior as our pastor. There were a number of Pentecostal preachers already in the town of Juba, who were all the time holding open air preachings at "Mahta Yei", (Yei station, Just on the way to Juba University from the east). And there were many young people and women responding to their alter calls, and the Pentecostal church was founded with warm and hot musical backed praises that attracked many young people in their worship. This was a new style and model that was rarely seen in the mainstream and traditional churches in many parts of Sudan, except among the revival groups. From the other tribes there were Ady Ambrous, the founder of the Pentecostal church of Sudan and South Sudan today. Then also Bejamin tera (known later as Rabuna Kwesi) and many others were among the founders of the Pentecostal leaders.
The Teaching Of Paul And Nathaniel In Bor Parish.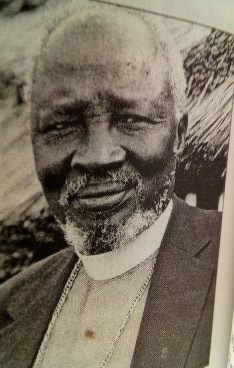 Photo 6. Rt. Rev. Nathaniel Gerang Anyieth. Bishop Of Bor Diocese, 1984-2010.(But God is Not Defeated,p...)
On the side of Jieng there was Paul Nhomlaau ( nhomrom), and Bishop Nathaniel. Both of them were teaching at Bor Church, with Nathaniel as the priest in charge. At that time Paul was teaching at the Bor Parish and for almost two to three years he was the chief speaker, with Nathaniel approving his teaching. He kept challenging young people and was teaching and organizing annual conference. Throughout this time lots of arguments were taking place and the church was about to split because of these teachings that many saw as foreign to them. This was taking place all over Juba and Bor among the Bor-Jieng of the Eastern Bank. And when Archdeacon Kdhekia realized this issue, he came in and chased away Paul nhomlaau and gave Nathaniel an option to choose between following the teaching of Paul or going for further training. And Nathaniel Garang had to undertake further training from Bishop Gwynne for one year but this didn't change Nathaniel very much. He still had the Pentecostal approach to the scriptures and prayer.
As for "Paul nhoml-au-re Dinka", he called himself after his conversion. His real name was "Nhom-rom de Piool", which mean in Dink. He went on and established his Church in Bor, in a place call "Marol", in the East-central part of the town. He also went to get employment at the ministry of education and was pastoring his Church. Through his teaching he drew around him many young people who later began to preach with power and authority. Among them are Dr. Isaih Majok Dau, who is now the head of the Pentecostal Church of the Sudan and South Sudan. Isaiah was a student at Malek Secondary school, where Paul nhomlau was teaching (CRE) (that is Christian Religious education). One time as he was holdining his annual conference at "Malual Caat", in Bor, Dr. Isaiah, nararrated this in his testimony; "I went to attend that conference. On the third day in the afternoon, as we were closing our meeting and conference, with Paul Nhomlaau preaching the Christian message, something happened to me that I had never experienced before; God came into my heart in a very strange way and I felt completely not the same. The conference ended and I went home completely changed and that was a beginning of a new life in me". This was around 1982-3. And Dr. Isaiah Majok went to Kenya on a scholarship to study theology at the Pentecostal College, in Nairobi, where he later became principal for a number of years, after finishing his Master's and PHD programme in Kenya and South Africa. Dr. Isaiah left without finishing secondary school in Sudan but he went and became one of the outstanding Sudanese Christian leaders in the time of the social and theological change within the Bor-Jieng community, with many others following the same suit.
Benjamim Mangaar Mamuur in Rumbek.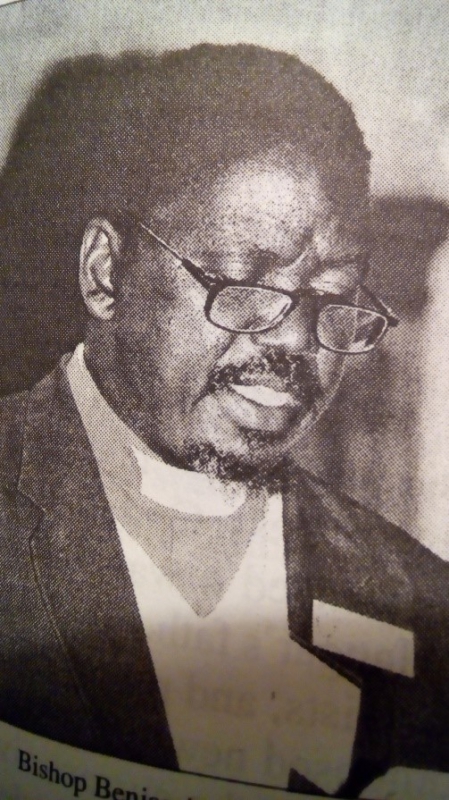 Photo 7. The Rt. Rev. Bejamin Magar Mamur, Bishop of Yirol (188-2012)
At around the same time, 1975-6, someone by the name Benjamin Mangaar Mamur (he later became a bishop of Yirol Diocese) came back from Egypt, with a lot of spiritual changes in his life. He was always reading his Bible in "thong e Jieng," the 'New Testament' (Lek Jot). He was misunderstood and was considered to be mad or have a mental disorder in some way. One day he came to our school and preached to us at the school in the evening. There he had an alter call for students to accept Jesus Christ as Lord and Saviour, there I came forward with many others and he prayed over us. We then left Rombek in the academic year of 1977 and went to Juba where I met with the team that went to evangelize Bor North. They were all youth and young people with the exception of a few. Then I heard the story of how one of the traditional priests of Padiet, one of the gods of Xhol section, in Duk Padiet had accepted the Lord Jesus. He had demanded that a teacher remain with him to teach him, otherwise he was sure that jok that he used to do ministering would kill him. He had lost his children some months back when he was just finishing performing and officiating the annual ceremonies within his communities, as is always done in many parts of the Dinka traditional worship of jak. The decision was made and two evangelists were left as a result, in both Duk Padiet and Duk Deng. The evangelist Samuel Majok Deng was assigned to Duk Padiet among the Xhol people. And Joseph Akol Gak was assigned to Duk Deng among the Nyarweng people to teach and evangelize them.
Among the youth who were part of this arrangement were, Archbishop Daniel, Bishop Nathaniel, Solomon Mabior, who was the secretary, Stephen Dit Makok, John Gerang Dau and Paul Galuak Aleer who translated many hymns from the Golden bells during his time as a student at Atar intermediate and then Rumbek Secondary school. These songs were refreshing and reviving lives in many Churches across the Dinka land. There were uncountable numbers of teachers, mostly from Bor-Jieng Dinka, spread in all churches including the West Bank church of Yerol, Rumbek and Wau around 1973-77.
But to come back to Bishop Benjamin Mangaar's ministry of evangelisation in the West Bank, of Jieng Land. He later went for training at theological school with the help of the Across staff of Thiet and Rumbek.
Benjamin Mangaar initially comes from Yerol, from Kuac-lou or Jak, and he might have been one of the students at the time of missionaries, when Pankar was opened right after Akot and later Rumbek and Gel River. Certain American missionaries from the old American mission at Dolib Hill were now working with ACROSS and were based in Rumbek. They were Telmige Wilson with his wife Doris. Wilson was teaching Christian religion at Rumbek Secondary school where I very much enjoyed his teaching. His wife Doris was a nurse or Doctor at Rumbek Hospital and she worked there for some years. These missionaries helped Benjamin study in both Kenya and Nigeria, and Bejamin Mangaar came back with a lot of potentiality for teaching and evangelism. He was a man of singing, full of music and new songs that he himself had composed. He is the one who started using the word "Athiei e Nhialiny piir", for he believed that the word "Grace", which is translated into Dinka as 'blessing', is wrong and that it should be 'Athiei' rather than the other way round. In fact there was a sharpe debate over the the three words, Blessing, 'Barak' in Hebrew, 'Grace', which is 'Khaset' in Hebrew and the 'Holy Spirit' which is 'Ruhahk' in the Hebrew also. In this debate Philip Ajuong was one of the least who fell victim to this debate while in the late sixties and early seventies and his ministry and faith progress got damaged as a result. This is what I have heard people saying and needed to be confirmed.
The Rev'd Samuel Majok in Duk.
To come back to the evangelist, Samuel Majok Deng Mathiang, who was posted to Duk Padiet, let us see what did God did with him. Samuel Majok came from Bor South from a sub-clan of Bor called "Pathoi-yith. He did not acquire any formal education and so he ended up being a teacher of the Bible in vernacular. Samuel was converted in the time of the war, accepting the Lord at the time of Archdeacon Kedhekia. He worked with youth and developed his teaching skills and proved to be a good Bible teacher among his colleagues. So when he was posted to Duk Padiet to help the old man, the priest of jok-Padiet established in faith, he started a church and began to give himself times of fasting and prayer. And within a short time many of the missionaries and those who visted from the town and the school children who came for the holidays began to make the fellowship and Sunday prayers. Many new converts came to the Lord and were baptized.
The interesting point in Samuel's mission to Duk is that there were no Christians in the whole clan and that this was the first time they heard the "Gospel of Jesus Christ". This was the first time for the 'Xhol people' to hear about Jesus and the "Good News" in general. God did miracles in Duk. And people who were resisting began to get challenged and convicted by God. New songs began to appear.
On one occasion, there was a young man with a sister. The girl, who was also married, went to the church, accepted Jesus Christ and was baptized. The young man refused and he offered a sacrifice to their 'jok', which his sister advised him not to do but to repent and go to church and derclare his faith in Jesus by accepting Him as Lord and saviour of his soul. The young man refused. At last after offering that sacrifice to their god, the jok, he died. And when his sister heard of this she wept for her brother and composed a song, telling others that "Nobody will any long have any reason to blame others for not being told the true way to life, when he dies. For the way to life has been clearly shown to us"52
Ran be rot cok mer jong rac,
Ani jok cuet eke miorde!
Ran be rot cok me cietan,
Abii jok cuet eke miorde!
Geiku roth ne cin de Bany"
Cin de Nyong ce theie,
Nyong ce tuooc, ne piir atheer.
Ran ce yook ku ken logam,
Aci be dhiau ne rander guop, cin rangek.
Kol bo tueng abine e jai wodhia,
Wel ke pande cuol,
Keka ye wo moor,
Ku yinke wo reec,
Kuke ye wopen panhom de athiei!( dhukic naa cekut).
That is one story. The second story among many wonders is that one of the young boys, who had a certain deformation in his life once, came to the church. He did not share publicly but he came to escape a situation of rejection in his family. He had one of his testis hung up without showing up within his sexual organs and so he had been considered as deformed, defiled and dangerous and it came to be a source of misfortunes. He was cursed as such and thought to cause the possibility of death in the family, especial when it rained. He was used to being chased out of the room or hut, where people shelter during the rain and tied under a distant tree until the rain stoped. This man told his life testimony and it was a moving story to tell in the church later. He was baptized later after this testimony. He began to attend the church and attended a baptismal class and was baptized. Right after his baptism, his one delayed testis came back and he found it hanging. There he cried with tears and told his parents. He became one of the church leaders as an Archdeacon in Duk later.
Witnessing Through Yan-Athiei Marchs.
Here the birth of marching during big occasions began and 'Yan-athiei' which is a copy of a traditional type of singing. 'Yai' is a type of singing and music which is done by men in worship of their local gods. It is like a choir singing, to invite the spirit to decend on the priest and people during the time of worship.
Now there were lots of 'Yan-athiei' everywhere in the Dinka land, including West Bank and Upper Nile. Christian went around in big numbers to witness and people were saved and came to Christ in big numbers. They always tell in their testimonies how the Lord appeared to them that night before the church people came to preach around their village, and so this kind and type of open air preaching was causing attention because it was effective. Bishop Benjamin and Bishop Nathaniel were using it to preach the Gospel. Normally they would go either to a cattle camp or Market or a place of 'local Bear'[35] being sold, and there they would get a lot of people. People come from curiosity to see and hear these people. They were always mixed, with different ages and gender. Some are school boy, girls, women and a few elderly people. It was so moving.
In one occasion, Bishop Nathaniel went around the Gabat town in Juba, to a place where people gather for drinking local beer, known in Sudanese language as 'Jou'[36]. And here, as they were coming, singing choruses in 'Thong-Jieng' (that is in Dinka) many came to listen to their message. Among them was a lady called Atit Mawan. She had a dream that night, where she saw herself being surrounded by number of deadly serpents and she started beating them from their hearts all around. And when she saw the people of God from the church she left her sales of beer (Moun-xer) and came to listen to the 'Gospel message'. Bishop Nathaniel spoke of repentance, that "Without repentance, no one will enter into the kingdom of God which has been declared to us by Jesus Christ. It is only by repentance and renunciation of evil and abandoning bad life, believing in Jesus Christ that you will see heaven". At the end, Bishop Nathaniel gave an altar call to his listeners and from there many came to the front to accept Jesus Christ and to be prayed for. And she came forward to be prayed for. She realized that God was the one who had shown her the bad life that she was leading. She used to fight and quarrel with everyone. She didn't have a suceesful marriage – she got divorced from her husband due to constant fighting and anger with each another. There was no love or appreciation for each another as partners and this kind of bad life was increased when she became a seller of local beer. Her life was so dangerously being hurt and she looked miserable all the time she was telling her testimony. She was saved and became Elithebeth Atit Mawan. She became one of our blessed mothers who were active and caring in the work of God among the Bor-Jieng congregation in Juba and Khartoum.
Another lady came to be lead to 'Yan-athiei, while she was sick and God healed her when the church people came and prayed for her as they were marching on the road, from Kongor to Wer-nyol, carrying their white flags with signs of the cross.
This woman was sick with fever and she could not do anything in her house. She was inside the hut (Xot) when the march was just passing by their village. That night she had a dream whereby she saw many people carrying flags and singing church songs. Now, when they were just about to cross, she came out and requested that the Christians came and prayed for her. She told her testimony that night that she had seen this moving group with Christian songs and flags and that was why she wanted them to help her and pray for her. These Christians were led by Rebecca Lueth Well, from Kongor parish. They were on their way to Wer-nyol to go and pray for those who were fighting in between Kongor (which was a clan as well as a town) and Adhiok. This woman became well and joined the procession and went to Wer-nyol which was about a two mile walk.
There were so many stories of this kind happening, and lots of marches, processions and Yan-athiei from the local church members to go for the burning of jaks from those who had just renounced them and become Christians. There was also fellowship and the sharing of food and eating together after prayers. There used to be milk contributed throughout the cattle camps to be taken for Sunday fellowship and shared by Christians after Sunday worship. At Christmas time, churches prepared for the general 'Christmas-Eve March', where all the youth, women and sometime some elderly men got prepared with white shits with additional short t-shirts with a red cross on it and dress them for a general March. Here new leather is prepared on drums. It is a must that drums should be prepared for Christmas worship. And it worked well. Wonderful music and short and simple choures were sung for the march and they marched for miles and miles around, across villages, witnessing to the birth of Jesus Christ in the world as the Saviour. In the morning everybody goes to the church. Even those of the missionary age Christians, who rarely come to the church on Sundays, do come that day. They are known as "those who come to renew their certificates". The church is always full and many people come from the towns to celebrate Christmas and have time to rest, reflect and spend time in fellowship with other Christians who can encourage their spiritual lives. This is how the church was moving everywhere across the nation, in all the old missionary stations. The city and town people were getting to meet new Christians from the village and there was now a sense of Christian community of mixed teaching and theology. There was a movement seen coming slowly from the abandonment of the old life and the embracing of God's way of life. This was around 1970-80s during the 'Addis Ababa Agreement period, at the time of what is called "The Southern Region" in the Sudan. It was a time of flourishing in Southern Sudan. It was a time of peace, love, harmony and development.
Nathaniel Is Consecrated Bishop.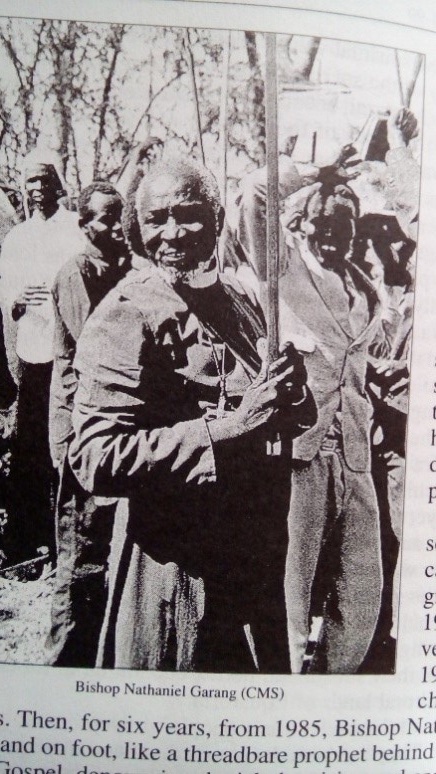 Photo 8. The Rt. Rev. Nathaniel Gerang Anyieth,Bishop of Bor, (Kakuma)
Now Nathaniel became a bishop in late 1984, when about seven Assistant Bishops were consecrated by Archbishop Elinana G. Ngalamu. They were Bishop Manasseh Binya, Assistant Bishop for Juba Diocese, Seme Solomona, Assistant Bishop for Yei, Bishop Joseph Marona Bringi, Assistant Bishop for Maridi. There was Nathaniel Gerang Anyieth, Assistat Bishop for Rumbek Diocese based in Bor, and Assistant Bishop Eluzai J. Munda, Assistant Bishop for Rumbek Diocese based in Mundri (Lui) and Bishop John Malau Ater, Assistant Bishop of Rumbek, based in Wau. The last was Bishop Mubark Kurkel, Assistant Bishop of Kartoum based in Kadugli.
Rev'd Nathaniel was consecrated and came to Bor in a great Jubilation. People were indeed happy. But it did not take long for the war to begin to impose dark parts into the life of the nation. It started in Bor in May 1983 but it kept sweeping much of Bahar El Gazal, at the Eastern border of Upper Nile and later on finally came to Bor. The Army, as they normally do, started shooting at the civilians so the whole population, including the police, left the town. And so Nathaniel was left alone with a few members of the congregation but life was no longer worth living in Bor. So Nathielal left Bor with his family by night through Aching-Dir and went to the rural areas of Bor country. He went as far as Kongor, which was safer, and there other members from the congregation began to join him.
A New Teaching Begins.
The teachings of Bejamin went rapidly through the West Bank and shook the ground of every town and city of Rumbek, Akot, Wau and Yerol. Many went to accept Jesus Christ in his meetings and were baptized. Many of the old Christians were recommitted and backsliders came back with vigorous faith into the Church. New churches and preaching centres were established throughout the West Bank. Benjamin's teaching was different from the ways of Paul Nhomlau and Nathaniel Gerang. He used the word "Halleuya" to maximum effect. All the songs, or most of the songs he composed, were full of halleluiahs. His church and preaching centres were called "Halleluya Churches and Centres. This was one of the theological difficulties he had been putting up with throughout his ministry until he retired from the leadership of the Anglican Church. Bothe Benjamin and Nathniel had Pentecostal and Charismatic theologies that were difficult to reconcile with Anglican teaching, though they didn't want to create their own churches or denominations as Peter Bol Arok, Gabriel Roric, John Macar, Mayom Athian, Daniel Dau (Lenepel) and many others did later who went to form their own congregations and churches outside the Jieng Anglican mainstream. They were compelled to teach Jieng and bring transformation through God's Spirit and not by any other means. They wanted to approach it in a special way, to attack its roots and foundations mostly from the spiritual dimension and realm. They were successful in this. Benjamin also introduced the cross that went into the hands of all Jieng and the phrase of 'Athiei Nhialiny piir'!, whichwas a teaching of Bishop Mangar, including cross, at the beginning of his work, meaning 'God's grace or 'goodness as well as blessing. Originally atheie was a blessing in Dinka.
But this movement in the West Bank did not go smoothly without criticism from the traditional local elderly Anglicans leadership, who criticised it from a pastoral perceptive, or point of view. This was due to its leadership, its styles, exercise and approach to pastoral theology in finding new meanings, values and qualities of the gospel. Rev. Ruben Maciir Makoi, who was by then the provost of the Pro-cathedral and Rumbek Parish had experience which could help the Dinka Church overcome disputes over the new style of pastoral ministry of Nathaniel and Bejamin Magaar. For Kedhekaia and Rubin Maciir were saying that Nathaniel Gerang had corrupted the Church in Bor Town with his Pentecostal approach and teaching of the Bible. They were saying he must stop or quit the church or go for training again. Rubin Maciir claimed that the church was growing into two church systems in Rumbek and the whole Lakes or West Bank Dinka. For example, the way Nathaniel baptized and the way Bejamin baptized were not the same. One sprinkled and the other immersed new converts in the River! This sharply divided the church and the congregations are debating on this and it might risk the future of the church. With the help of the diocesan Bishops, Benjamina Wani and Elinana G. Ngalamu, who themselves had experience of the same crisis in their communities, between the revival groups and the pastors in the church, told them to cool down and resolve it amicably. It was argued that these two systems are used frequently in the Church and should not bring any theological disagreement between the church leaders. They referred to Archibald Shaw in Malek who used to baptize by imersion and was alright. Coming to the dispute between Kedhekia and Nathaniel, it was agreed that Nathiel should go for more training in an Anglican institution and Bishop Gwynne was recommended. He went there with his wife and his son John Chol and there his second son Gwynne was born. After he came back the leadership fell on him and he had to carry on his shoulders the next stage of the church's leadership, throughout the civil war period until the signing of the Comprehensive Peace Agreement (CPA), since that dispute was settled in 1982 in the Rumbek Diocesan Synod, in Mundri.
Bishop John Malau and Missions to Jieng Areas.
And then came anther Jieng church leader who worked at the same time of Nathaniel and Benjamin among the Jieng but was in Khartoum city. About the same time as the peace agreement he finished his Bachelor degree in Divinity at Near East school of Divinty in Berut. He was Rev John Malau Ater, who hadworked with Sudan Council of Churches as secretary for Evangelism in 1980s, before becoming bishop of Wau in 1984). He was an Agar, from Rumbek. He came and worked with the Sudan Council of Churches in Khartoum as a secretary for Evangelism. He then joined the Dinka Congregation during Bishop Butrus Tia Shukai's leadership. He aided and acted as the priest in charge to the congregation, which was pastored by Ruben Maciir Makoi, before his return to South Sudan where he worked as the Provost of Rumbek Pro-Cathedral.
John Malau Ater became very active in raising leaders for the church. I was a student in Khartoum polytechnic and used to attend the Jieng prayers at Khartoum-Bahri. His approach to this revival utilised plans similar to the one which had worked in northen Bor by esteablishing four missions to Dinka land. He formed what is called "Aweil Mission", mainly to work for reaching Malual Jieng, northen Bahr El-Gazal. And he established another for Abeiy and called it "Abiey Mission," to work among the Dinka Ngok Kuol Aloor, to work for Abiey area. He also formed another for "Parieng," to reach to Jieng Pan-Aru or Jieng De-Kuei, at Parieng, in Unity State, Upper Nile. There was a mission formed for Gogriel but it diddn't see light because their leaders were dispointed by the devisions that occurred in the church when Banjamina Wani and Elinana G. Ngalamu divided the church because of their leadership and power struggle.
This approach was welcomed by many among the Jieng who were forming a mixed Jieng groups, under the Anglican Church in Khartoum. There were many who were not very happy with the domination of the liturgy and scriptures which was mainly coming from the Dinka Bor translation from Malek group. You may not know that there are four groupings with the Jieng language. They talk normally of "Thong Monyjang" but it is difficult to approach it without knowing their inner differences. There is "The Malut Group" that is called "K-Group" and that operates in Upper Nile area among the Padang orignated Dinka. Also it extends to North Western Dinka of Rek and Malual (they call themselves all Rek Dinka). The other group is known as "C-Group" based in South Bor, or intitially it is Bor, Aliab, Ciec, Agar, and Gok mostly. The 'K-group' call river 'Kiir', while the other groups or 'C-group', from Bahr-El-Gazal or West Bank and south East-Bank pronounce it "Ciir" and "Aquil" to "Ajuil" and ,'Ayuen' of 'C-group' to 'Aywien' or 'Dau', in the 'K-group' and 'Ngic' in 'K-group' into 'Nyic' in 'C-group'. There are accent differences caused by these slight differences and this needs to be considered, alongside other linguistic problems, within their various means of communication. So there was a little unease and friction about these little differences among these groups within the fellowship. There was a need to break down these differences for the smooth transition of the gospel to all equally. There was a need to bridge these gaps and differences among the different groups as it was clearly visible in many ways in the fellowship. Bishop John created a forum for fellowship in Omdurman for the hearing of testimonies and prayer for one another. This was also helpful.
On these issues of language and theologucial and liturgical differences, a group from "K-group" from Sobat, and Khorfulus and Atar, fell away from this programme. There was no sign of them benefiting from this strategy. There are a number of things different apart from the language differences. Most of the Ngok-Lual Yak Dinka and other communities around Malakal, or Upper Nile, were influenced by the 'Presbyterian' teaching and their translation of the Bible into 'Padang Dinka'[37] accents and vocabulary, which made it difficult to accept the liturgy of the Anglican tradition. In the two translations, or three to the Dinka in South Sudan, there are fundamental differences in the terms used in the Bile and this is posing a great difficulty for those who are raised up in an Anglican tradition and try to teach in the Presbyterian congregation or within those who read the New Testament. The translation of the 'Padang Dinka' from the Presbyterian or Sudan Interior Church (Mission before) translates the 'Holy Spirit' as 'Weidit Xher' while the Anglican 'Bor-Jieng's trandsltion makes it 'Jongdit Lajik'. The Padang-Dinka felt offended by this and then the groups ended up running within two different streams of thoughts and belifs. This has affected the two theological bases strongly and those who were brought up and trained by the Anglicans found it harder to preach the gospel to the Padang masses. We in the Diocese of Malakal, who work with the Padang Dinka, have now accepted this challenge needs to be resolved through establishing a diferent translation of the liturgy into Padang and Nuer and Shuluk so that there is an harmony in worship. The mission to Awiyl, Abeiy, Parieng and other groups are working hard to bridge this language barrior to accommodate the harmony of the flow of the word of God.
The Ministry of Women.
Mary Achol E-Deng-(Nuer) Awai.
Rev. Mary Achol Deng Awai cames from Adhiok, a sub-clan of Twic in Bor-Jieng people. She was displaced by the 'Paweer-floods' in the 1960s and later by the war displacement of 1965, and came to seek safe shelter in Northern Sudan like many others. She then got married as the second wife of Deng Lual from Nyarweng, from Duk Deng.
Her testimony begins with her first encounter with the Gospel in Renk Town in the 1970s. She had been brewing white local beer in order to keep her family. She then discovered that she was commiting a sin before God and joined the church and became a Christian. After some time she felt called to serve God and during that time she composed a number of songs. One was adopted by the church and was widely sung around the middle and end of the 1970s. And as the Addis Ababa Peace began to hold many people who were living in North Sudan began to come home. Achol herself came home and settled in Duk. Fortunately, the missions to Northern Bor began and Joseph Akol Gak were posted there and they began to work together. I met her several time in the church when she was living with the brother of her husband, because her husband had other two wives. She wanted to avoid conflict with the other women so would come and stay for a while, get some food and get back to Duk to stay with Anyang Lual, the brother of her husband. She had some cows to feed on with her children and also supported the new evangelist, Joseph Akol Gak.
Over the years as Mary began to develop in the Christian service, she preached and read the Bible in the church as Joseph trained her with other women. Mary began to prove to be an effective preacher and evangelist. So when the archdeacon Kedhekia B. Mabior heard of her commitment, he called her to Juba with Rebecca Luath Well, who proved to be an extraordinary woman in the church, and commissioned tham as lay readers. And Kedhekia, with his missionary conservative teaching, convinced everybody that Mary Achol and Rebecca Luath must be very good in the service of the church and the word of God in the faith of Jesus Christ. So they began to gain the respect of all and they were listened to widely in the area.
During the second civil-war, Mary Achol was again displaced and went to Ame, an Acholi area in South Sudan, near the boarder to Uganda. There, as before, Mary found herself leading in the church alone when the men left to join the movement and the front lines. She led serious teachings and cycles of prayer in the church, and led the spiritual renewal.
It is very important to look at the reasons behind the development of Mary into the Christian ministry. Most effective was the isolation she was in at the time and during her marriage life. She was not near her husband all the time to tie her movements. She was free and like the elderly women in the Dinks culture; when a woman is young she should stay at home near her husband to give birth to children and raise them up. Then when she gets older, she can allow her husband to remarry and have additional or more wives to care for him. She would only be consulted on matters of the welfre and social issues of the family. So Mary was living at an advance stage of her role and status. And there was no conflict at all, on that, because she saw staying closer to her husband woul not serve anything than quarreling and disputes with her husband and his wives on issues of sharing and injustices in the family and so on. And that would have ruined her ministry or hindered it. But as she grew into the Christian ministry, her husband and the whole family began to respect her call dearly, as someone God had appointed for that time and task and they used to listen to her frequently.
Mary Achol, during the movement and social crisis in camps, played a great role in leading women in fasting and prayers through the ministry of "Thiec-Nhialic" in Kakuma, 2000s. That was a group of elderly and young faithful Christian women from the Jieng Community in Kakuma and Nimuli. They did lots of things that brought about changes to situations in the camps through their prayers. They believed that, through prayers, God began to move in the lives of their communities. Mary was later promoted to be one of the Archdeacons at Duk by Bishop Nathaniel, but she kept her family in Nimuli, due to insecurity in Duk and around the Bor-Area in General.
Rebecca Luath Wel.
The Rev. Rebecca Luath Wel, came from Angakuei, a sub-clan of Bor in the Bor-Jieng people. She is married to chief Chan Awuol Chan E-Diing, from Kongor, Padool. She started to work in the Mother's Union in the church in Juba, at a place called "As-shab-el Nil"[38] near Juba Airport, before it was moved to Gabat. She grew into the ministry, as most members of her family were all relatively effective Christians who used to attend her local church. For example, Reec Ma-wew and Ajang e-Gak and many others of the missionary era.
After this her husband was requested to go and be the chief of the Padool family in the place of his father who had died and so the family went to Kongor where he was to settle cases and be part of the supreme court of the District.
There were there a few Christians who used to pray in the school in Kongor and Rebecca went to join them. She began a church and later constructed a church building in Kongor separate from the school, and the number of Christians began to increase. There was Ajang Gak who was serving as a labourer at the Kongor Primary school, and Tito Chol Ayi and Achong-dit, the wife of Reec de Gak, Reec-Baar, who later became the church warden in the Kongor Parish. She used to bring food from her house to support Joseph Akol when he was newly transferred to Kongor from Duk Deng, where he was with Mary Achol.
Rebecca began to work with this community and especially with Tito Chol Ayii, who was a drum beater, to alert people of times of prayer and Sunday service. He used to go around the small town of Kongor on every Sunday.
Civil-War and Revival in Competetion.
The war started but the signs of the revival were also starting. Bishop Nathaniel had a cycle of prayer developed in Bor with a number of elders, including Boul Duk and Mayen Kulang,[39] the brother of Macor e-Kulang and many others. They used to have time for fasting and seeking the Lord's face for renewal and they used to study the Bible weekly with prayers. Buol Duk one time spent a week without eating but drinking only lemon. It was quite a new experience to him and to others in the congregation. His life was totally changed and his preaching was so much more powerful and ful of grace and hope in the work of God in the lives of his people.
When they were in Kongor they revived this tradition, along with many local pastors and laity, both men, women and youth. They began to fast and read the bible. This practice or semi-conference of prayer and fasting went on for seven days. And on the seventh day one of the members, or all the members, saw the top of the church they were in open and light coming in. They tell this in different ways but what happened that time was that many people were filled with the Holy Spirit and fell under the power of God. And Bishop Nathaniel then closed the conference with a prayer and this power began to show up and manifest itself among the fellowship wherever there was strong and deep worship. Members of the church would fall on the ground and Bishop Nathiel was questioned and sued in court because of their fear of this kind of worship. He was arrested and warned to go away from the area. He always says in his remarks: "The Twic have humiliated me! Or mistreated me!"[40] He says it with deep heart, as that of Shaw, when he was misunderstood and mistreated by the "Guala people".
All in all the revival started taking off, in addition to the war situation and the death and suffering that was experienced because of that. Also many Christians from Khartoum, Juba, Yerol, Rumbek, Gel River, Wau, Tonj, Thiet, Malakal and other parts of Sudan including Egypt left the cities for safety and with knowledge of the past experience, of mass killings by the northern Arab troops. This multitude began a new life of God in the camps with a few pastors and many evangelists. There were hundreds of churches built up and many attend Sunday services and there was a real renewal in the midst of the Jieng people. The other groups were not very much busy with faith matters. The Equatorians did not join the movement from the beginning due to some political differences with the Dinka and Nuer. They would be the next to build a strong active church amidst the Southern populations in the camps and within the liberation movement.
The Theological Development.
There was a development of Liberation Theology during the war. The war began to expand, reaching most areas of Upper Nile and Baher El-Gazal. Once again areas and villages were affected and people moved out of them; places like Mlakal, Bor, Rumbek, Wau and wherever Dinka and Nuer were living, because this time they were the targets of the central Government. And within this turmoil and persecution God's spirit began to expand the church in many ways among the Jirng people, especially among the Bor-Jieng. There were congregations from the Bor-Pentecostal church who were worshiping with the camps as one church and this also changed the style of service and prayer life. People begin to pray in the early morning whereever they gathered. Also in the cattle camps they begin to pray in groups twice or three times a day.
There was an intense period of teaching of songs and the Bible everywhere in villages and cattle camps. They beat their drums for prayer in the morning and evening and people came in big numbers. Also in Toch, in the fish-camps, they began to gather in groups to hold prayers on Sundays and every evening and morning, asking God for protection for their children on the front lines. There were already lists of the names of so many lost, people who were known to them who were being killed in the battle field. So they begin to lament and seek God's victory over the enemy of good who was persecuting them unjustly. They began to see this as a spiritual liberation because Islam is a religion that despises Christianity and takes Black Africans as valueless souls and people on earth, who deserve to be enslaved and are only good for exploitation. This was so strong in the mind of Bor and Jieng people because their history speaks for itself about all these problems. The Mahdist Movement was not for the liberation of Sudan but for the enslavers of the Sudan. It was for Islamization and Arabization of the country.
The Dinka Mega-Churches.
(The Jieng Anglican Mega-Churches.)
Mega churches: what exactly does this indicate? And what do we mean by 'Mega churches? We will give you the meaning of it soon, but let us see how Jieng got into this experience. The experience of Jieng to Mega-churched-Christianity in South Sudan has posed a lot of concern and questions. It took everybody by surprise and wonder. To some church leaders, like the late Archbishop Joseph Marona[41] and and Dr. Oliver Duku, it was a cause for jubilation, praise and thanks to God because of the response of Dinka to God at last with such capacity. Some doubt it, however, and do not accept it as an event happening as a sign of God's hand in the Sudanese history but just as a temporary political gesture of its kind by the Jieng people, especially the Bor-Dinka. They think it is of mankind's making because it is looked at with amazement. They look different and do their worship quite separately from the other Anglicans. This has made many on-lookers surprised and reserved, with mixed feeling about this kind of movement within that part of the church. Not many know much about the history of the Jieng-Anglican, especially how and when their spiritual journey and this revival Movement began, through and after the civil war. And it has been as the result of a sweeping wind of change that below through and came over to the Jieng people's Landscape. This has been seen as a new phenomenon, new style and feature coming to the Jieng Anglican Church of South Sudan in the last few years. Churches can be completely filled to maximum every Sunday. You can see this in many places, in Juba, Wau, Rumbek, Yeol, Awarial, Bor, Kongor, Duk, Malakal, Renk and Khartuom. This was not like that before.
The origin of this term and usage comes from American evangelicals, as you find it Wikipedia. 'Mega church' is an American term for a Protestant church having 2,000 or more people in average weekend attendance, for example North-Ridge Mega-church, Plymouth, Michigan.
Historically, these types of churches were founded throughout Christian history, but it is rare to see them often. Examples are seen everywhere in our modern history as God's Spirit moves and work in every generation.
The origins of the Mega-church movement, with large numbers of local congregants who return on a weekly basis, can be traced to the 1950s.[42] There were large churches earlier in history, but they were considerably rarer. Examples include Charles Spurgeon's Baptist Metropolitan Tabernacle in London which attracted 5,000 weekly for years in the late 19th century, and religious broadcaster Aimee Temple McPherson's Angelus Temple in Los Angeles, which was similarly large."[43]
But looking back into history, you find this phenomenon to have accompanied the church's tradition of 'renewal' throughout time. There are examples from western church history after the many revival movemenst when huge gathering were seen gathered to listen to the word of God or worship together. It has been a manifestation of God's Spirit's movement in the life of the church and communities. So what is seen happening and taking place in the Jieng Church today in Sudan is one of the many experiences of God's work in the history of man. It is possible to take place anywhere any time.
In 2010, the Hartford Institute's database listed more than 1,300 such Protestant churches in the United States; according to that data, approximately 50 churches on the list had average attendance exceeding 10,000, with the highest recorded at 47,000 in average attendance. On one weekend in November 2015, around one in ten Protestant churchgoers in the US, or about 5 million people, attended service in a mega church. While 3,000 individual Catholic parishes have 2,000 or more attendants for an average Sunday Mass, these churches are not seen as part of the mega church movement, because–by definition–such churches are a part of Protestantism.
Globally, these large congregations are a significant development in Protestant Christianity. In the United States, the phenomenon has more than quadrupled in the past two decades. It has since spread worldwide. In 2007, five of the ten largest Protestant churches were in South Korea. The largest mega church in the United States is Lakewood Church in Houston, Texas with more than 40,000 members every weekend and the current largest mega church in the world is South Korea's Yoido Full Gospel Church, an Assemblies of God church, with more than 830,000 members as of 2007.
History Of Dinka's Large Churches.
The habit of Mega Churches began to develope among the Dinka in Anglican churches during the times of huge Christmas marches and gatherings of the local churches for burning of jak. It was developed during the peace time in the towns and villages also, when visitors from the towns joined the annual village worship or those who come to the town from villages joined the worship in the cities. It could also apply to a number of parishes that belong to one administration or different churchs agreeing to celebrate charismas to gather. This also kept the number of attendants very high and people ended up with lots of encouragement which strengthened the church's growth in the area. This continued to be the tradition of the new people of God throughout the war-time when there was no real pastoral training or clear definition or division of roles and lines in the Christian service. It was a time of war and escaping death and violence everywhere. Christians were only focusing on witness and survival. They were looking for encouragement and words of comfort and hope from the scriptures. Gathering together at times of prayer and to listen to elderly Christian leaders was very important. Bishop Nathaniel was the only bishop who could be seen and heard. So he was a focal point in the Christian community and when he visited a place, great numbers attended that service and hoped to see and listen to his sermon. This was seen in Panyudu, Itang, and other places in Ethiopia. This also continued in Kenya and Uganda and in other parts of South Sudan, in Kakuma, Ame, Nimuli, Magalali, Magalitoria, in 1993 and so on.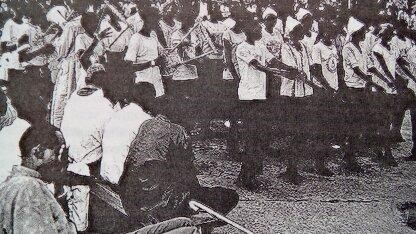 Photo 9. Dinka Mega-Cgurches with Jol-Wo-Liec Songs– in Kakuma, 1990s.( Photos of Rev. Dr. Marc Nikke, 1995)
The Role of Shaw and Songs in the Revival 1939.
Accommodation of social and cultural.
The vernacular songs and indegenious Christian versions were a transforming stage of the Jieng's lives after the revival of 1939. Throughout these long years among the Jieng, Shaw gained a sense of the inner logic of Jieng culture and language which no other CMS missionary would rival. When an indeginous christain Movement erupted in the 'Anglican Sphere' in 1939, Shaw's defence of venacular songs composed by new converts in traditional idioms was central to the continuation of what has, over half a century, become the single most important tool in the propagation of the Christianity among the Jieng people at home and in the diaspora.
Shaw Loves Music.
Shaw was a lover of music. Among the possessions which accompanied the first GMSM misionaries in the 1905 was his pump organ. Unfortunately with the first heavy rains on the Upper Nile it became waterlogged. Missionaries who joined Shaw at Malaek in later decades recalled his evening sing-songs around the organ.
The Revival of 1939.
It was as Shaw was entering retirement that an evangelical 'revival movement' (as the CMS- missionaries' refered to it) took place. In 1938 a powerful renewal began as a result of the preaching of someone called Richard Jones at Yembio and Loka Intermediate School. Two Senior Dinka teachers experienced an extraordinary renewal and change and so they went back home to preach and start revials at their localities. One of these teachers was Jon Majak from Akot and the other was Daniel Deng Atong from Malek.[44] These two men went and started what was known later to be the '1939 Revival' in Akot. This stirred up the church for a while and many people were inspired and renewed.
This helped to spark a new indigenous phase of church growth among the Jieng, in their home territories. During 1939, and in the secceeding years, the CMS-sphere among the Jieng became home to a movement that impacted not only school children (as had long been the case), but rural people residing in villages and cattle camps.[45]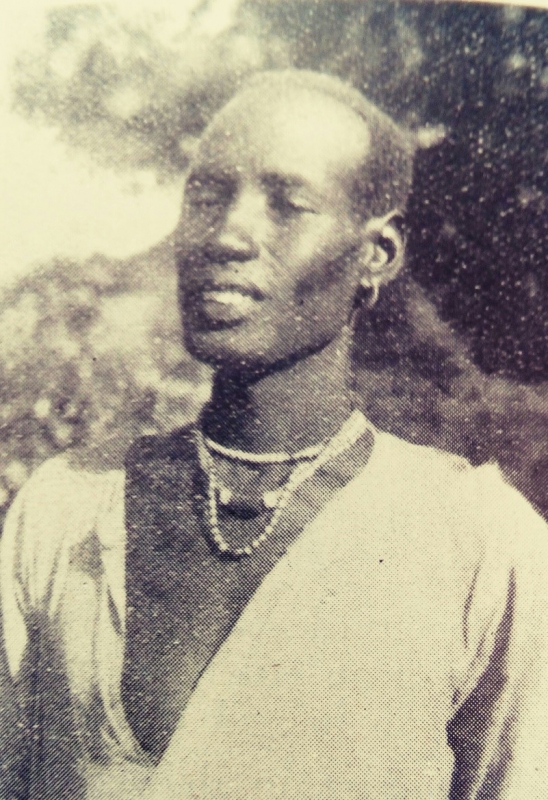 Daniel Ayup, A Great Christian 'Song Maker' (193-1960s, from Yirol).
Songs with Jieng Tunes.
For the first time new converts, skilled in composing traditional songs using indigenous rhythms, thought forms and vocabulary, gave voice to the indigenous music. Shaw welcomed the songs and helped to collect, edit and prepare them for publication. To ensure they would be used and officially adapted for worship, the Diocesan inprimatur was inserted on the fly leaf of the first 12 paged booklet to be published.[46]
The Songs and New Theology.
The new vernacular compositions were easily accessible, relevant to the rural Jieng expierence, and conveyed a wide range of evangelical concepts.
Employed by young evangelists and widely circulated in rural communities, they became powerful evangelistic tools, integral to the church's expansion. The first collection of 15 songs published in 1941 grew by stages to include 118 in the 1956 edition of 'Songs of the Jieng'.[47]
The Development of Language.
Shaw's approach to language development, encouraging converts to create their own terms to express theological concepts, led to some 50 diferent designations for the person of the 'Trinity' ('Diangdit'), literally 'the Great three'.[48]
The change Brought By the Revival of 1939-1956.
Until 1939, nearly all the Jieng converts had been school boys, much influenced by their missionary 'Parents'. The music composed between 1939 and 1956 reveals a new level of dialogue, developing primarly among rural Jieng as they sought to intergrate the precepts of evangelical Anglicalism with the religious, social and moral conceptions of their heritage (this is continuing today with the Bari, Moru, Zande and Latuka etc.)
While the initial revival subsided within a decade, the precedent for the spontaneous composition of Christmas songs continues, finding expression among Jieng congregations in Sudan's urban centres in shanty towns, and in the refugee and displacement camps.
In rural Bor alone it is estimated that some 3,000 new vernacular songs were composed between 1985 and 1995. Amidst dispersion and upheaval, songs provide cultural continuity, social solidarity and affirm Christian faith in a manner more urgent now than in Ahaw days. Themes of exile and return, of Messianic deliverance, and lamentation previously unknown, reveal the tensions, aspirations and theological vision of the 'Movement'. As fresh lyrics, musical idioms, and Biblical imagery evolve they bear tribute to the indeginious composers over a half a century ago.
The Last days of Shaw.
By 1936 Shaw was retired as secretary of the Mission and in 1940 retired from his position as Archdeacon. Entering retirement, he made his home on the outskirts of Nairobi at Karen, but for the remainder of his life made dry-season pilgrimages back to Malak. Each year as he arrived, the children of the school he had founded welcomed him joyfully. He was honoured as a venable elder. Shaw continued to assist in multiple translation projects and offered moral support to his maturing Jieng sons. In 1956, he died and his body rested in a cemetary in the heart of Nairobi, Kenya, in East Africa.[49]
Conclusion.
In conclusion, I have come to recongnize the difficulties the missionaries were facing when working to advance the work of God among the Jieng, in terms of staff and pastoral leadership. As Joan Bradford and Shaland mentioned in therir writings: "We are sure that inspite of our own instability to do the work needing to be done and the shortage of European staff, God has been working in our midst and that He will carry out His purpose for the 'Nuer if we are willing to follow and learn what is His will is."[50]
Now the two 'revivals', one in the past in 1939 and the new one, are similar in their impact and the way in which they stirred up the spirits of Jieng peole. They left an amazing transformation on people and communities, throughout the history of the CMS Missionary work and the Anglican Church later among the Jieng.
The recent 'Revival Movement' of 1990s' was significant due the circumstance within which it was born. It began when the war broke out and God began to reveal himself to Jieng people in a new way. Many song makers increased their output and the number of song makers also went ten times higher than before. Their experience was the same but the conditions and contexts were different and that why the depth and length of each work was special. The songs were a refuge for weary souls from the wails of persecution and death.
---
Comments