The Servant of Global Periti
by John Martin
Date added: 17/06/2015
No comments in this article yet. Start the discussion >> (You need to log in first.)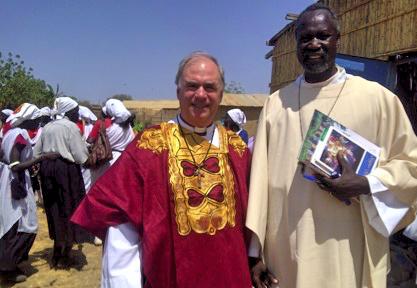 Around the middle of the 20th century, Anglicanism entered a fresh phase and former "mission fields" began to emerge as autonomous provinces in a global communion.
A century earlier two great mission thinkers, Henry Venn of the Church Missionary Society (CMS) and Rufus Anderson of the (Congregational) American Board of Commissioners for Foreign Missions, had spelt out a vision around which this development would take shape. A mature church, they said, should be self-governing, self-propagating, and self-supporting.
The Rt. Rev. Graham Kings, who in July takes up a newly created seven-year post, mission theologian in the Anglican Communion, believes a fourth element is needed to make the Anderson-Venn vision complete: self-theologising.
This fourth self, he says, now needs to come to the fore, especially the largely unrecognised work of Anglican theologians from Africa, Asia, and Latin America. "It is these theological voices which need to be heard more clearly throughout the Anglican Communion," he says.
"It's a partnership to find and publish new voices," Kings adds. The post is an initiative of the Archbishop of Canterbury, the Church Mission Society, and Durham University. Kings has been awarded an honorary visiting fellowship at Durham, will be employed by CMS, will work in the Lambeth Palace Library, and will serve as an honorary assistant bishop in the Diocese of Southwark, London.
Step one will be a series of seminars around the Communion for theologians, particularly from Africa, Asia, and Latin America. There are two further elements: coordinating writing-sabbaticals for hard-pressed theologians of the Global South and publishing a series of books on Anglican theologies. Sabbaticals are being planned at colleges in Durham, Oxford, Cambridge, and at Virginia Theological Seminary's Center for Anglican Communion Studies.
Kings, an original member and mentor in the founding of Covenant, the weblog of The Living Church, has been Bishop of Sherborne in the Diocese of Salisbury since 2009. He brings to his new task a blend of inner-city London parish ministry, cross-cultural mission and lecturing in Kenya and Cambridge, and the founding of the Cambridge Centre for Christianity Worldwide.
He went up to Oxford to study law and changed to theology after a year. A momentous week in January 1974 changed everything. On a Sunday he offered a prayer of commitment in response to a Christian Union address. The following Wednesday he met a student from Lady Margaret Hall: Alison later became his wife and mother to their three daughters. Then, on the Friday, he joined a prayer group for world mission.
There were other important staging posts. In the year between Oxford and Cambridge he worked as a janitor at All Souls Church, Langham Place, next to the BBC in central London. As well as cleaning the toilets he found himself part of a reading group led by the Rev. John Stott, rector emeritus. The group watched and analysed films like Steven Spielberg's Close Encounters of the Third Kind.
The CMS entered his world in 1980 when he heard a BBC radio interview with Jean Waddell. This British missionary was taken hostage during the Iranian revolution and released through the work of Terry Waite.
In the interview Jean recounted being tied up, interrogated, and finally shot by three revolutionary activists. CMS colleagues Paul and Diana Hunt, and their two small daughters, lived in the flat below. Diana and the children came to take Jean on a picnic but there was no response to their knock. A determined three-year-old Rosemary continued to hammer on the door, finally to be met by the gunmen, who pushed the trio into the bathroom and later fled.
But for the arrival of the Hunts the gunmen likely would have finished Jean off. They left her lying on her bed, soaked in blood, shot through her lung. Inspired by her heroism and determination to forgive, Kings immediately mailed a membership application to CMS, and it became an important part of his life. His Utrecht doctoral dissertation was based on the missiological correspondence between Max Warren, former general secretary of CMS after World War II, and his son-in-law in India, Roger Hooker.
A partnership between Warren and Archbishop Geoffrey Fisher shaped the emerging Anglican Communion from the mid-1950s around the three-self principle. Kings also acknowledges a profound debt to another CMS general secretary, John V. Taylor, as a pioneering theologian of mission and culture.
On completing a curacy in Harlesden, a multicultural area in London, Kings's next move was seven years in Kenya with CMS, teaching at St. Andrews Theological College, Kabare, and working alongside Bishop (later Archbishop) David Gitari.
One of Gitari's legacies is the Kenyan Prayer Book, a project that went beyond translation or adaptation, drawing on African cultural concepts and imagery. The Kenyan Eucharist made a big impression when used at the 1998 Lambeth Conference. One crucial passage blends the Kenyan concept of blood brotherhood and Romans 6: "We are brothers and sisters through his blood. We have died together, we will rise together, we will live together."
Among the tasks ahead for Kings is setting up an endowment fund at Durham to ensure, after his seven years, a stable foundation for mission theology in the Communion. Another dream is encouraging theologians in Africa, Asia, and Latin America to serve in the role of peritus (Latin for expert) in conferences of the Communion. This is a familiar role for Roman Catholic theologians: Ratzinger, Rahner, Küng, and Congar were all periti at Vatican II.
"Anglicanism has a version of peritus — for example people like Dr. Kenneth Cragg and various Lambeth Conference consultants," he says. "But we need new networks and resources so that scholars in Africa, Asia, and Latin America can continue as theologians, make specific contributions as periti, and so enrich the mission of the Church."
This article first appeared at The Living Church and we are grateful for permission to republish it on Fulcrum
Source: http://www.fulcrum-anglican.org.uk/articles/the-servant-of-global-periti/

Comments